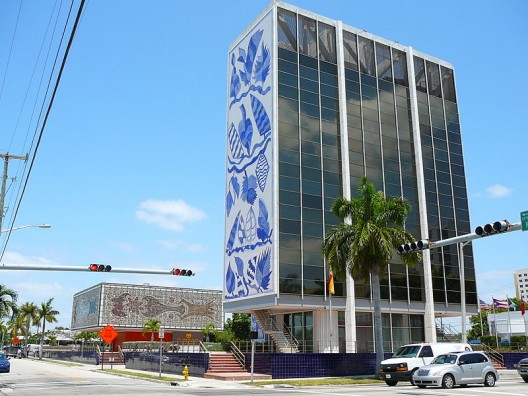 Frank Gehry continues to amaze us – we recently shared the octagenarian's vision for Zuckerberg's expanding Facebook campus, and now the architect will tackle a master plan for Miami's iconic Bacardi Tower and annex.   Designed by Enrique Gutierrez, a collaborator of Mies van der Rohe, with amazing tile work by Brazilian artist Francisco Brennand, the Latin-infused modernist tower served as the Bacardi headquarters for nearly 50 years.  Just this morning, the National YoungArts Foundation announced that it is the proud new owner of the main 8-story tower, and the "Jewel-box" 1975 annex, designed by  Igancio Carrera-Justiz, with glass mosaic walls based on designs by German artist Johannes Dietz.    The organization acquired the property for a steal – the Miami Herald estimates the buildings' $10 million price tag weighs in at less than half of its market value – and is excited to make a permanent home to expand their activities.
Gehry work will not involve either of the buildings' exteriors, which will be completely preserved, but rather, the project will include transforming the site's parking lot into a park that will connect with a Gehry-designed performance hall just north of the existing buildings.
More after the break.