LEESER Architecture's design for the Museum of Moving Image has recently been announced as the winner of the 2013 Red Dot Design Award in its highly competitive Architecture and Urban Design category.  Completed in 2011, the Museum of the Moving Image houses a comprehensive collection dedicated to educating the public about the art, history, technique, and technology of film, television, and digital media.The existing structure is seamlessly integrated with the substantial new addition through a grand lobby which connects the two. More information on their award after the break.
Alderbrook Station, located slightly east of Astoria along the Columbia River, is the site of the former Union Fisherman's Cooperative Packaging Company, which once supported a thriving salmon fishing industry. The Netshed is a 3-story timber structure which was used by fishermen to repair and store their gill nets. Inspired by the natural and man-made qualities that pervade Alderbrook Station, such as the movement of tides, the light that reflects off the Columbia River, the memories and history contained within and around Alderbrook Station, and the structure of the Net Shed itself, Robert Hutchison and Sarah Biemiller's shared with us their proposal for an installation inside the Net Shed developed out of numerous influences. More images and architects' description after the break.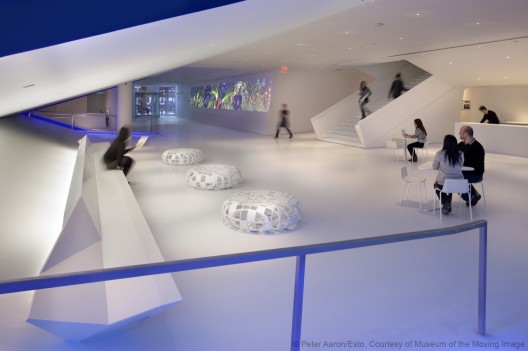 The Museum of the Moving Image opened its doors this past weekend sharing with the public its expansion and addition of a 264-seat theater, 68-seat screen room, Video Screening Amphitheater and gallery for changing exhibitions.  The complete redesign of the ground floor plus construction of a three-story addition and Courtyard Garden, has doubled the size of the existing building, enabling growth and innovation in the Museum's uniquely comprehensive presentation of screen culture in all its forms (film, television, and digital media) and welcoming visitors into an experience in which architecture is seamlessly fused with the moving image.
Designed by Leeser Architecture, the Museum of the Moving Image is hoping to achieve LEED Silver certification.  Follow the break for a section, photographs and a complete project description.
Architects: Leeser Architecture
Location: 35 Avenue at 37 Street, Astoria, New York, USA
New York Founder and Principal: Thomas Leeser
Project Manager: David Linehan
Design Team: Simon Arnold, Kate Burke, Sofia Castricone, Henry Grosman, Joseph Haberl
Owner's Representative: Levien & Company, Inc.
Rendering: VUW
Project Area: 50,000sqf (existing) 47,700sqf (new construction)
Project Year: 2008-2011
Photographs: Peter Aaron/Esto. Courtesy of Museum of the Moving Image