The Graham Foundation in Chicago, Illinois is hosting an exhibition of the works of architect Stanley Tigerman from January 26, 2012 – May 19, 2012. Tigerman, a Chicago native and principal of Tigerman McCurry, undertook more than 400 projects, resulting in 175 built works. As an active member of the local Chicago architectural community, he was a founding member of The Chicago Seven, director of the School of Architecture at the University of Illinois at Chicago (1985-1993), and co-founded the school ARCHEWORKS with Eva Maddox in 1994 – a progressive socially oriented design. More details after the break.
Two young artists Ryan and Trevor Oakes have introduced a unique way for drawing using a 3D drawing machine that assists in re-presenting the view in front of one's eyes. The machine was developed as an exploration of the nature of vision with a goal to recreate realism in the correct proportions and perspective. The artists explain how the machine works; by limiting vision of the scene to one eye and the other to plot the image on concave paper, an illusion occurs where the paper becomes transparent, rendering an effect that you are simply tracing the scene in front of you.  It is an interesting take on creating artwork with amazingly accurate results. Check out the video for their presentation.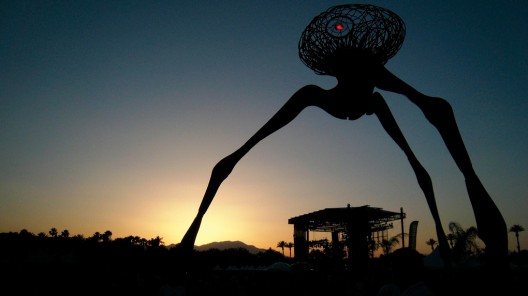 Since 1999 the Coachella Valley Music and Arts Festival has been bringing to the California Desert a collection of different genres of music including rock, indie, Hip Hop and electronic music. Located in Indio, California, with a population of 75,000, the annual music festival brings together over 225,000 people over a three-day weekend in April to the vast fields of the Empire Polo Club.
German artist EVOL recently completed an interesting interactive installation just outside of Hamburg, Germany for the MS Dockville music and art festival. The 'Rural City' is comprised of thin trenches about 1.5 meters deep in an 'X' shape that were dug out over the course of 8 days. Earth is held back with retaining boards made of Eternit and spray painted to resemble the facades of skyscrapers. More photos after the break.
Joel Pirela of Miami based studio Blue Ant Studio has ingeniously reinterpreted the traditional ophthalmology exam to suit the refined tastes of designers. More after the break.