Following a brutal 15-year civil war that tore the city apart, Beirut has recovered remarkably; it was voted the number one destination to visit by the New York Times in 2009, and, more recently, received a similar title by Frommer's. The city is in the second phase of one of the biggest urban reconstruction projects in the world, run by Solidere, which has brought architects like Steven Holl, Herzog & DeMeuron, Zaha Hadid, Vincent James, and Rafael Moneo to the local scene. In less internationalized parts of the city sit the landmarks of the 1960s and 1970s, Beirut's pre-war glory days, including buildings by names such as Alvar Aalto, Victor Gruen, and the Swiss Addor & Julliard. With a city growing as fast as Beirut it is impossible to have a final city guide, so we look forward to hearing your suggestions and building on this over the years.
Photos and a map of Beirut's most exciting buildings after the break…
We recently came across an opportunity to work with a friend of ArchDaily to expand our Tokyo Architecture City Guide that we could not pass up. Carlo Fumarola shared with us his knowledge and photographs of Tokyo. Today, we bring you twelve buildings from his list. Check them out after the break.
Also be sure to check out the previous Tokyo City Guide with 12 additional buildings.
To check out other cities visit our world map or our Architecture City Guide page.
Livability.com recently released a compilation of the 10 best downtowns in the USA.  Based on a rubric analyzing entertainment, planning, architecture, and green spaces they have come up with a list atypical of the cities typically found at the top of similar lists. Each of the cities on the list has a distinct and unique aura. Starting with Franklin, Tennessee, and topping out with Indianapolis, Indiana at number one, the descriptions of each city are sure to provide ample insight into the inimitable characteristics that warranted their listing within the top 10 downtowns. Be sure to check out projects from the cities on the list here:
Winston-Salem, North Carolina
Burlington, Vermont
Savannah, Georgia
Franklin, Tennessee
This week our Architecture City Guide is headed to Tel Aviv. Justin Kliger, a local urban planner and designer and friend of ArchDaily, graciously put together the material for this week's guide. As the founder of Architec.tour.a, an architecture tour company in Tel Aviv , Kliger offered us great insights into the architecture of his city. "Tel Aviv is covered by a UNESCO world heritage listing as the 'White City', the single largest collection of International Style buildings in one city.  In addition, there is a vast amount of development and construction going on in Tel Aviv. There are a range of interesting buildings, including many examples of Brutalist buildings, post modernist structures and new cutting edge designs," says Kliger. The 12 buildings we feature here only scratch the surface of what Tel Aviv has to offer. We will be adding to the list in the near future so leave more suggestions in the comment section below.
To check out other cities visit our world map or our Architecture City Guide page.
The Architecture City Guide: Tel Aviv  list and corresponding map after the break.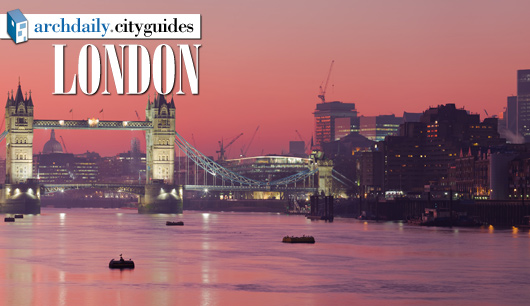 This week, with the help of our readers, our Architecture City Guide is headed to London. This is our second stop in Europe, and once again I had to capitulate and double the number of buildings that we normally feature. We could not feature all of the suggestions, and will be adding to the list in the near future. We really appreciate those readers who offered their suggestions and the use of their pictures to make up this list.
Samuel Johnson famously said, "When a man is tired of London, he is tired of life." As home to a long tradition of kings and queens, the Royal Society, and the roots of the Industrial Revolution, it is not surprising that there is a rich tension and collaboration between the historic and contemporary architecture in London. This reflects a city and culture that has a strong history of celebrating the past while also moving forward. Conflicts often emerge, as the goals of one side clash with those of the other. This relationship, however, is why I find walking the streets of London so appealing - those beautiful moments when history and progress collide.
Once again, thanks to all our readers for your help. We encourage you to add more of your favorites in the comment section below.
The Architecture City Guide: London list and corresponding map after the break.