In 1994, a routine construction technique that has been practiced in Hong Kong for over 100 years caught the attention of photographer Peter Steinhauer - and led him to put almost a decade of work into capturing this unique urban phenomenon. The bamboo scaffolding and fabric wrappings he photographs serve the simple purpose of catching construction debris, but at a glance they look more like works by Christo and Jeanne Claude, the artists that have made their name wrapping buildings like the Reichstag in Berlin.
The resulting photos showcase the colossal towers of Hong Kong wrapped in brightly-colored fabric; their usually varied facades are made monolithic, like a plastic massing model rendered full-size. Steinhauer named his photo series "Cocoons" due to the effect they create over time: the buildings metamorphose under cover and emerge transformed.
Read on for more photos of these urban cocoons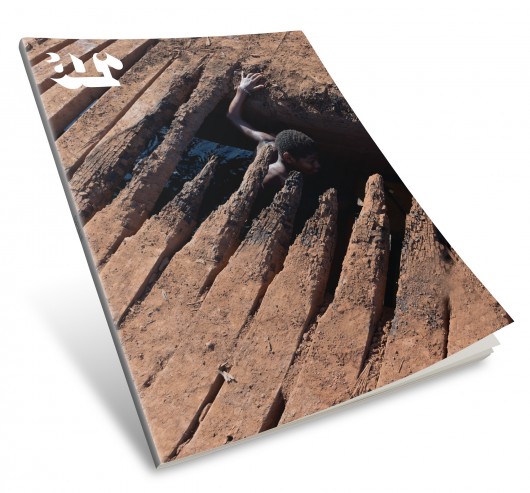 ArchDaily has partnered with The Architectural Review to bring you short thematic introductions to the magazine's monthly editions.  Up now: AR's April 2014 issue, which examines the complexities of architecture photography. Editor Catherine Slessor asks "what happens when controlled views of buildings are redefined by and adapted to new technologies?"
Roland Barthes once observed that there is no such thing as a photograph. 'Whatever it grants to vision and whatever its manner, a photograph is always invisible, it is not it that we see', he wrote in Camera Lucida. What we do see is the scrutinising gaze of the photographer, which can beguile or unsettle, but should always evoke some kind of response.
As a scientific and 'truthful' medium, photography has served architecture well, especially in the Modernist era when the evolving medium synthesised perfectly with a new approach to design. Yet the relationship between architecture and photography is an inherently compromised one. Unlike art practice, architectural photography lends itself less to searching critical enquiry, being essentially an unspoken pact between architect, photographer and publisher to render buildings in a way that discreetly flatters architectural ambition and sells copies of books or magazines.
In this interview, originally published by Paperhouses as "Decisive Moment: Conversation With Fernando Guerra", the Portuguese photographer details his career in architectural photography, and how he approaches the art of photographing buildings. As an advocate of free sharing and online publicity, and one of a new breed of photographers who – shock horror – likes to include people in his shots of buildings, Guerra is well placed to explain how the world of architectural photography has changed over the past decade.
I do not want to call it an interview—it was a fabulous discussion that Fernando Guerra led as a loose narrative with notes on work that he practices with hedonism and filled with life. They are all stories dedicated to the great beauty of doing what one loves and letting it grow.
Read on after the break for the interview
Last June, we published our first list of must-see Instagram feeds to follow, but we knew it was only the tip of the iceberg. Once again we've scoured the web (and followed your excellent suggestions) to track down the 25 Instagrammers who will be sure to inspire – including dare-devil adventurer raskalov, up-and-coming architecture photographer nicanorgarcia, and our very own editor-in-chief.
See the 25 awesome architecture instagrammers, after the break…
This image, by photographer Daniel Chia, of the 1960s Jalan Bukit Ho Swee public housing block has placed third in Singapore for the 2014 Sony World Photography Awards. It was one of 24 images awarded from a selection of 70,000 entries. You can view all the stunning, award-winning photographs here.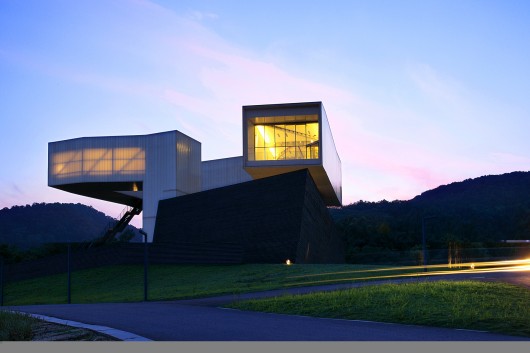 Steven Holl Architects has shared with us an impressive gallery of images of their recent project, Nanjing's Sifang Art Museum. Rising above the lush landscape of the Pearl Spring, the new museum was designed as a physical manifestation of the parallel perspective, a technique prevalent in early Chinese paintings. From a subtly distorted courtyard with no vanishing points to an upper level gallery with calculated views and pristine light, the experience through the Sifang Art Museum is unlike any other.
See for yourself, after the break…
The talented photographers of Hufton + Crow have shared with us their visual archive of Bjarke Ingels' recently completed Danish Maritime Museum. Built within the crevasse of a dry dock in the historic surrounds of Helsingor's Kronborg Castle, the subterranean museum is visible only as an imprint of a ship. By looping the museum around the dock's 60-year-old walls, Ingles was able to preserve the heritage structure while transforming it into a courtyard that provides daylight deep into the heart of the museum.
Experience the Danish Maritime Museum through a whole new lens, after the break…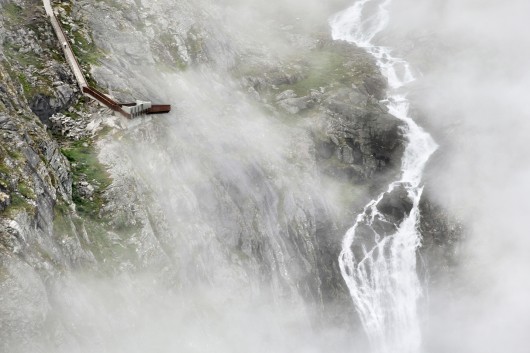 UPDATE: The winning images will go on show February 28th in London at the "Building Images: The Arcaid Images Architectural Photography Awards 2013″ exhibition. They will remain on view through April 25th inside a renovated factory on 7–9 Woodbridge Street.
The Architectural Photography Awards, hosted by Arcaid Images, have announced the winner, runner-up and shortlisted images for this year's best architecture photos. A distinguished panel architects and editors that included Catherine Slessor, Eva Jiricna, Zaha Hadid, Ivan Harbour and Graham Stirk were asked to look beyond architecture and into composition, atmosphere and scale to ultimately judge four categories of images: Interiors, Exteriors, Sense of Place and Building In Use. Their selections reflect this vision admirably. 
Architectural photographer Victor Enrich has shared with ArchDaily a series of 88 images — one for every key in the classical piano —  exploring the various formal possibilities of the NH Deutscher Kaiser Hotel in Munich, Germany. "I found it beautiful," says Enrich, "to connect two distinct artistic disciplines such as photography and computer graphics with the piano." See further illustrations and read a full description of his thought process following the break.
All images are from photographer Richard John Seymour,who caught Rem Koolhaas' recently completed De Rotterdam building on a broodingly foggy morning. 
At the opening of the newly constructed De Rotterdam building in his home city, Rem Koolhaas spoke at length about how this "vertical city" was designed to appear scaleless, despite its urban context. More about what Koolhaas had to say about the project and the city, after the break…
Our friend and architectural photographer Felipe Camus recently embarked on an architectural pilgrimage to the valley of the Rhein. Located in the Graubünden region in Switzerland, the valley boasts many of the seminal works of Pritzker Prize Laureate Peter Zumthor, all within a 60-kilometer radius. Born in Graubünden himself, Zumthor designed the works in relation to their location and time by paying special attention to details and materials. As a result, the works all present Zumthor's unparalleled skills of craftsmanship and his uncompromising integrity. 
Join us for a special AD Architectural Mountain Guide, including a detailed map, photos and descriptions of Zumthor's works, after the break….
Last year, we published a post (one of our most popular of all time) on the 4 Apps that every architect should have — 4 Apps that make your architectural life all the easier.But when it comes to everyday inspiration, perhaps there's no greater App than Instagram — the perfect way to instantly capture and share the architectural forms and details that surround us.
We've scoured the web and tracked down the 25 Instagrammers who will be sure to inspire – from international architecture photographers like Iwan Baan to famous architects like Michel Rojkind to our very own ArchDaily editors. If you're new to Instagram — or just want to bulk up the architectural inspiration on your feed – these are the 25 feeds to follow now!
See the 25 best architecture instagrammers, after the break…
Winners of the Architect's Eye 2013 Competition have been announced! In an effort to encourage photography by architects, the biennial competition asked entrants to submit photography in two categories: Architecture and Place focusing on the aesthetics of a building and how it shapes the location and Architecture and People focusing on the interaction of people in relation to architecture. Follow us after the break to see the winning photographs.