All images are from photographer Richard John Seymour,who caught Rem Koolhaas' recently completed De Rotterdam building on a broodingly foggy morning. 
At the opening of the newly constructed De Rotterdam building in his home city, Rem Koolhaas spoke at length about how this "vertical city" was designed to appear scaleless, despite its urban context. More about what Koolhaas had to say about the project and the city, after the break…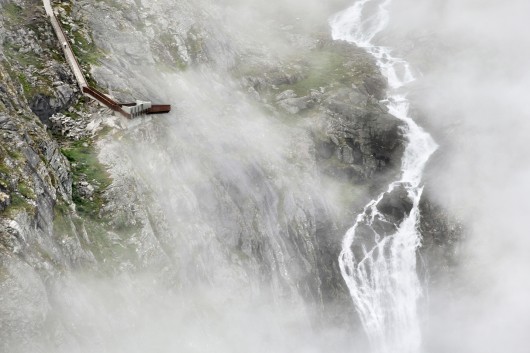 The Architectural Photography Awards, hosted by Arcaid Images, have announced the winner, runner-up and shortlisted images for this year's best architecture photos. A distinguished panel architects and editors that included Catherine Slessor, Eva Jiricna, Zaha Hadid, Ivan Harbour and Graham Stirk were asked to look beyond architecture and into composition, atmosphere and scale to ultimately judge four categories of images: Interiors, Exteriors, Sense of Place and Building In Use. Their selections reflect this vision admirably.
The competition aims to draw attention to the expertise of the architectural photographer, "translating the sophistication of architecture into a readable two dimensions to explain and extol the character, detail and environment of the project." "The experience of architecture for the majority of people is via images," reads a statement by Arcaid Images, "The architecture itself is the focus and the image regarded only as the medium." 
Without further ado, the following are this year's selected images…
Our friend and architectural photographer Felipe Camus recently embarked on an architectural pilgrimage to the valley of the Rhein. Located in the Graubünden region in Switzerland, the valley boasts many of the seminal works of Pritzker Prize Laureate Peter Zumthor, all within a 60-kilometer radius. Born in Graubünden himself, Zumthor designed the works in relation to their location and time by paying special attention to details and materials. As a result, the works all present Zumthor's unparalleled skills of craftsmanship and his uncompromising integrity. 
Join us for a special AD Architectural Mountain Guide, including a detailed map, photos and descriptions of Zumthor's works, after the break….
Last year, we published a post (one of our most popular of all time) on the 4 Apps that every architect should have — 4 Apps that make your architectural life all the easier.But when it comes to everyday inspiration, perhaps there's no greater App than Instagram — the perfect way to instantly capture and share the architectural forms and details that surround us.
We've scoured the web and tracked down the 25 Instagrammers who will be sure to inspire – from international architecture photographers like Iwan Baan to famous architects like Michel Rojkind to our very own ArchDaily editors. If you're new to Instagram — or just want to bulk up the architectural inspiration on your feed – these are the 25 feeds to follow now!
See the 25 best architecture instagrammers, after the break…
Winners of the Architect's Eye 2013 Competition have been announced! In an effort to encourage photography by architects, the biennial competition asked entrants to submit photography in two categories: Architecture and Place focusing on the aesthetics of a building and how it shapes the location and Architecture and People focusing on the interaction of people in relation to architecture. Follow us after the break to see the winning photographs. 
Japanese architectural photographer and editor Yukio Futagawa (1932-2013) lost his battle to cancer on March 5 at the age of 80 in Tokyo, Japan. Futagawa was best known as the founder of the distinguished Global Architecture (GA) Publishing Group, which he established in 1970, and director of Global Architecture (GA) magazine. Throughout his 60-year-long career, Futagawa photographed modernist works from some of the world's most famous architects and presented them in elegant magazine and book series. Two of his most important works include a ten-volume collection of "Japanese Traditional Houses" in the 1950s and a lavish twelve-volume collection that illustrates the complete works of Frank Lloyd Wright.
GA will continue to operate under the direction of Yukio's son Yoshio.
via Informador 
Now on view at the Yossi Milo Gallery through March 2, rarely-seen images by modernist architectural photographer Ezra Stroller (American, 1915-2004) captures a Post-War American landscape with stunning images of industry, technology, transportation and working class Americans. 
Beyond Architecture covers the full range of Stoller's work, including photographs commissioned by Fortune, Architectural Forum, and House Beautiful magazines in the 1940s and for commercial projects for IBM, Upjohn Pharmaceuticals and CBS in the 1940s and 1950s. Included are photographs of Skidmore, Owings & Merrill's John Hancock Building, Chicago, and the United Nations Headquarters, designed by an international team of architects led by Wallace K. Harrison and including Oscar Niemeyer and Le Corbusier.
A selection of these images after the break…
Organized by International Art Consultants (IAC) and supported by The Royal Photographic Society, the Architect's Eye competition has been celebrating and encouraging architects' passion for photography since 2007. Now, in its fourth edition, UK architects are challenged to submit photos into two distinct categories: Architecture and Place and Architecture and People. The former focuses solely on the aesthetics of the architecture and places it creates, while the latter explores and celebrates the interaction of people with the environments created by architects. There are no restrictions on which buildings qualify for the competition.
The winner in each category will receive a weekend break for two anywhere in the EU. There will also be Special Commendation prizes awarded at the judges' discretion.
Catherine Opie has photographed people and architecture in and around Los Angeles, California for over twenty-five years. She has successfully captured the interplay between architecture and urban life by photographing the subcultures and castaways of Los Angeles, from the undersides of freeways to lonely Beverly Hills mansions. These works create a portrait of Los Angeles as a singular built environment.
Catherine Opie: In & Around L.A. features work from five distinct series created over the past two decades that highlight Opie's captivation with the city. These include Freeways (1994-95), Houses (1995-96), Landscapes (1996), In and Around Home (2004-05), and Shopkeepers (2011).