From Vitruvius to Le Corbusier, words and writing have always played an essential role in architectural discourse. One could argue that crafting words is akin to orchestrating space: indeed, history's most notable architects and designers are often remembered for their written philosophies as much as they are for their built works.
With the exception of a few of architecture's biggest names, the majority of practicing architects no longer exploit the inherent value writing offers as a means for spatial and theoretical communication. This trend is exacerbated by the fact that many architectural schools place little emphasis on the once-primary subjects of history and literature, resulting in a generation of architects who struggle to articulate their ideas in words, resulting in an ever-growing proliferation of ill-defined "archispeak."
LOBBY is an attempt from students of London's Bartlett School of Architecture to reclaim the potency of the written word, presenting in their second issue an ambitious array of in-house research and external contributions. The theme is Clairvoyance, and the journal seeks to investigate the ways in which architects are forced to constantly grapple with the possibilities and uncertainties of designing spaces that exist in the intangible realm of the world-to-be.
Cylinders, spheres and cubes are a small handful of shapes that can be defined by a single word. However, most shapes cannot be found in a dictionary. They belong to an alternative plastic world defined by trigonometry: a mathematical world where all shapes can be described under one systematic language and where any shape can transform into another. As digital tools are becoming increasingly complex, this book seeks to use mathematics "as a means to demystify the inner computational workings of digital tools" by proposing a framework to convey mathematical transformations as design tools.
Award-winning architect, writer, and professor David Heymann has just released his first work of fiction: My Beautiful City Austin. Composed of seven humorous tales, the stories document the misadventures of a young architect in Austin and his accidental involvement in the slow decimation of his city's charms. Unable to deter his clients from their poor choices, the well-intentioned designer finds himself complicit. Using fiction, Heymann paints a sharply dynamic picture of the architectural consequences of Austin's rapid growth and "rediscovered allure." Check out the book, here.
Why do we make models? From sketch maquettes and detail tests to diagrammatic and presentation models, the discipline of physically crafting ideas to scale is fundamental to the architect's design process. For architect and educator Nick Dunn, architectural models ultimately "enable the designer to investigate, revise and further refine ideas in increasing detail until such a point that the project's design is sufficiently consolidated to be constructed." In Dunn's second edition of his practical guide and homage to the architectural model, the significance and versatility of this medium is expertly visualised and analysed in a collection of images, explanations, and case studies.
I was recently at a lecture at Rotterdam's Nieuwe Instituut in which Dirk van den Heuvel mediated a discussion between Kenneth Frampton and Herman Hertzberger. Talking of those who contributed to the Dutch Structuralist movement, Hertzberger lamented the fact that so many have faded into obscurity: "if you make the mistake of not writing" he said, "you're bound to be forgotten." Accompanying design with the written word is at the core of good practice, not only because it lends design an elevated meaning by cementing it into a wider discourse, but also because it often uncovers the subconscious significance of the process of architecture.
LOBBY is an attempt from students of London's Bartlett School of Architecture to anchor in-house research and external contributions in words, "creating both a space we lack and an action we desire." Their new journal is also a response to the school's current in-between state as they await their new building in temporary studio spaces. As such, LOBBY will serve as a platform for exchange and discussion in lieu of a physical lobbying space. The first issue explores the theme of Un/Spectacle, offering different layers, approaches, readings and perspectives on the topic of the '(un)spectacle' of the everyday.
Wondering what to do with the last, lingering weeks of summer? There's still plenty of time for some enticing summer reading! Peruse this online collection of select books on Architecture, chosen from academic publisher Routledge's titles on themes of Professional Practice and Sustainable Architecture, and available in their entirety for free throughout the month of August.
Including compelling and notable works, these books tackle relevant and significant contemporary issues facing the design world today. See what's available after the break.
Kinetic Architecture: Designs for Active Envelopes is a book about energy. We have written it to explore the new ways architecture has developed in the last decade to respond to the flow of energy, both natural and man-made, that primarily affects building performance and the comfort of the people in them. Buildings regulate energy flow in several ways, but in this book we explore the approaches that innovative architects, engineers, and consultants have taken with building envelopes, façades, and other types of enclosures that modulate the internal environment of architecture to various ends. Architects have expressed this regulation in ways both visible and invisible, using the media of air, water, and the thermal mass of a variety of materials, and often a combination of all three.
Architects often don't make time to read. Students and professionals alike will admit that the unread books on their shelves outnumber the ones they've read - which is unfortunate because literary contributions to the field of architecture, from Vitruvius to Le Corbusier, have shaped the way we build and use buildings for centuries. With this in mind, ArchitectureBoston polled their readers, asking them to share their favorite architecture and design titles, to compile a list of important architecture books you should set aside some time for. The list covers a wide range of subjects, from historical theory to the practicalities of starting a firm. See all thirty-three titles, after the break.
This summer, ArchitectureBoston gives readers a reason to linger in their hammocks a little longer and drift away into the world of architecture and design. The new issue contains extensive and insightful suggestions for book lovers looking to build a personal library of new and important titles. Read on for more information.
Ten years after closing its doors, the Brooklyn Domino Sugar Refinery's iconic forty-foot tall yellow sign is still legible along the waterfront, even from parts of Manhattan. The refinery, built in 1882, was once the largest in the world, producing over half of the sugar consumed in the United States. Sadly, the historic landmark will soon be demolished, making room for luxury living — and a handful of apartments for affordable housing, at mayor Bill de Blasio's insistence. As time runs out, a photographer, photography editor, and historian are vying for the opportunity to thoroughly document the site and publish a book entitled Sweet Ruin: Fossils and Stories of the Brooklyn Domino Sugar Refinery.
The photographer, Paul Raphaelson, was recently given a day's worth of access to the site by its owner, real estate development company Two Trees Management. Raphaelson was able to visit and photograph three of the refinery's buildings, capturing the sugar-coated interiors of the hauntingly cavernous spaces. He hopes to revisit the site before it's too late to take more photographs with the guidance of his two collaborators, photography editor Stella Kramer and historian Matthew Postal. For the compelling images and more details about the future publication, keep reading after the break.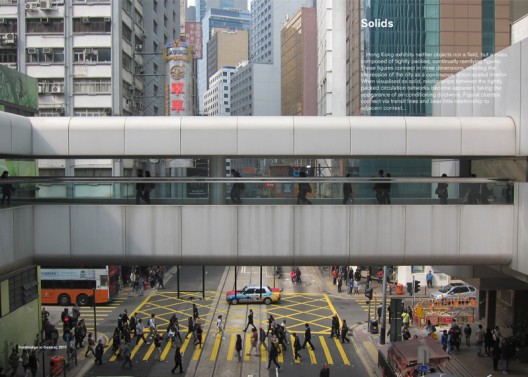 As a city, Hong Kong doesn't have it easy; impossibly dense and smothered by unsympathetic hilly terrain, the gymnastics that it performs to survive has lead to the growth of unique urban spaces. Cities Without Ground deconstructs the unfathomable spaghetti of pedestrian bridges, tunnels and walkways, which make up pedestrian Hong Kong. The book, created by motley trio of architects and academics: Jonathan Solomon, Clara Wong and Adam Frampton, graphically dissects this labyrinth in a series of snappy axonometric drawings of 32 various routes through the city.
Read more about the story of Hong Kong's pedestrian maze after the break…
In September 2011 Barney Kulok  was granted special permission to create photographs at the construction site of Louis I. Kahn's Four Freedoms Park in New York City, commissioned in 1970 as a memorial to Franklin D. Roosevelt. The last design Kahn completed before his untimely death in 1974, Four Freedoms Park became widely regarded as one of the great unbuilt masterpieces of twentieth-century architecture. Almost forty years after having been commissioned, it is finally being completed this year, as originally intended. 
Le Corbusier (1887-1965) was the most significant architect of the twentieth century. Every architecture student examines the Swiss master's work. Yet, all too frequently, they rely on reproductions of faded drawings of uneven size and quality. Le Corbusier Redrawn presents the only collection of consistently rendered original drawings (at 1:200 scale) of all twenty-six of Le Corbusier's residential works. Using the original drawings from the Le Corbusier Foundation's digital archives, architect Steven Park has beautifully redrawn 130 perspectival sections, as well as plans, sections, and elevations of exterior forms and interior spaces.