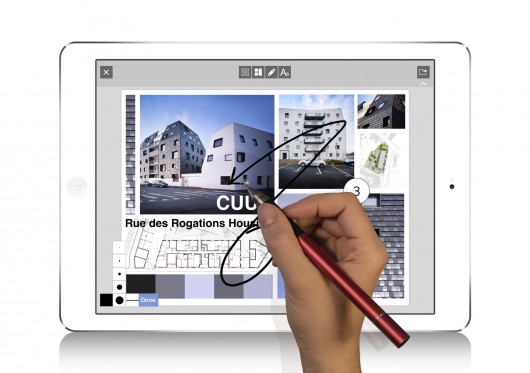 Consistently ranked as among some of the best digital tools available for architects and designers, the team behind the Morpholio Project today release Board 2.0., the second version of their moodboard and layout app for iOS. The app has been made possible by a number of collaborations with high profile interior designers in order to develop a 'gallery' of "significant design objects", with contributions from the likes of Dyson, Herman Miller, and Knoll. For the past year Morpholio have "assembled research groups and canvased design leaders worldwide" in order to better understand the power and potential of the 'board'. The general consensus was that getting style, products, and sketching onto a single platform could "change the way designers access, build, and share ideas."
CurrentSet, one of a number of cloud-based digital apps for managing construction drawings on the go, seeks to foster collaboration among architects, project managers and on-site professionals. Uniquely, the app is offered free of charge before allowing users to add features as and when they require them.
Part of an increasing trend of apps which allow precision scale drawing, Arrette Scale seeks to provide designers with a simple, familiar drawing environment usable by anyone comfortable with traditional drawing tools. Allowing users to digitally review work by sharing ideas and drawings, Arrette's platform welcomes incremental design changes and collaboration on iPad without the need for printing reams of paper.
Smart phones are designed to collect a variety of personal data, from location and orientation to sight and sound. But what if these devices were capable of tracking our visceral response to the built environment?
The architects and academics behind The Morpholio Project have been researching ways in which biometrics, such as EEG, EMG, face tracking and pulse measurement, could be used to quantify the physical impact of an image on the human body. By turning to the medical industry, Morpholio has studied the capabilities of photoplethysmography (PPG) and envisioned ways in which it could be integrated with the smart phone.
With a simple 3D printed fitting, the iphone can be transformed into a miniaturized blood pressure machine that records the heart rate fluctuations of a user while they photograph their surroundings. By tracking an individual's unique emotional response to what they are seeing and experiencing, Morpholio believes they can unlock new potentials in which technology can evolve of the design process.
More information from the creators after the break…
Although tablets have opened up a whole new range of possibilities for architects and designers, using them for drawing and doodling is often a clumsy experience. In many cases there's far too little accuracy and far too much complexity when it comes to working simple operations. Archisketch, which was formerly known as Archipad, seeks to streamline this experience with a smooth, cleanly designed app for iPad that not only allows you to import drawings and doodle over them, but also draw to scale.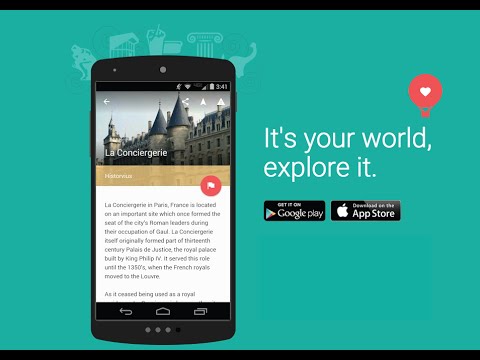 You can now use ArchDaily's content on Field Trip, an app which notifies you when you get close to something architecturally interesting. With ArchDaily's daily feed now embedded within the app, when you approach a building we've covered your phone will alert you and provide you with photos, facts and information. More info, after the break…
Getting instantaneous, accurate structural dimensions in the early stages of the design process, or even when exploring the feasibility of a project, can often be challenging. In response to this, Vancouver-based structural engineering firm Fast + Epp have developed a new mobile application called Concept, a depth calculator which uses typical span-to-depth ratios for common steel, concrete and wood members to give you a quick overview of what dimensions a certain structural idea will require. In addition to this, the app also includes project photos to give users an idea of how certain materials will be expressed in built form.
Design Corps – a partner of Public Interest Design Week – has announced that Version 3.0 of the Social Economic Environmental Design (SEED) Evaluator, an evolving web-based tool, will officially launch next Saturday, March 23, during the Structures for Inclusion (SFI) conference at the University of Minnesota's Minneapolis Campus. SFI participants will receive the first peek at this new, collaborative design tool. Thereafter, it will be available free of charge, online at SEEDNetwork.org.
Based on SEED's bottom-up approach to design problem-solving that truly activates community concerns, the SEED Evaluator 3.0 not only advocates, but also requires an inclusive and participatory process for achieving successful design projects with involvement from community stakeholders as well as designers and project planners. The tool offers specific steps for creating a collaborative approach to public interest design and for identifying and measuring the success of like-minded project goals focused on the triple-bottom line of social justice, economic development, and environmental conservation.
SEED Evaluator 3.0 breaks down the design process into three phases (application, details, and results) with review and evaluation required at the end of each phase.  The tool helps to ensure that an effective process is followed, adequate participation is included and results are transparent. Projects completed with the Evaluator become SEED Certified, providing project accountability and proof that a project successfully addresses social, economic and environmental needs.
Click here to register to attend Structures for Inclusion and other Public Interest Design Week events, online atEventBrite.com, or click here to learn more about the SEED Network and Evaluator tool, online atSEEDNetwork.org.
If you happen to be wandering around Los Angeles, New York City or Washington D.C. this weekend, download the pilot AIA Broadcastr App and transform yourself into a multimedia tourist. The American Institute of Architects (AIA) is forming a partnership with Broadcastr to create an app that offers in-depth building information, exclusive interviews with architects and a vast library of narratives from local professionals that reveal the stories and facts behind buildings of architectural significance based on your location.
"Imagine standing in front of one of the world's great buildings and listening to the architect tell you about her inspiration," said Andy Hunter, CEO of Broadcastr. "We are thrilled that our partnership with AIA makes that possible."
The AIA Broadcastr is available on Apple and Android. Let us know your thoughts if you try it out!
Reference: AIA Broadcastr, Forbes
Our favorite sketchbook has gone digital! Moleskine presents The Hand of the Architect – an iPad app featuring 378 sketches and drawings from 110 internationally renowned architects, such as Assadi, Botta, Fuksas, Graves, Gregotti, Hadid, Foster and Piano, "showing that every project always begins by hand". All the works were collected by FAI (Italian National Trust) with the aim of raising funds to restore Piero Portaluppi's Villa Necchi, known as a 1930s masterpiece of Italian rationalism in Milan. Sketches and drawings are accompanied by essays, captions and the biographies of the architects. You can purchase the app for $18.99 here on iTunes.
In case you missed it, check out Frank Lloyd Wright's Fallingwater iPad App and Zaha Hadid Architects iPhone & iPad App, previously featured here on ArchDaily.
Frank Lloyd Wright's Fallingwater has joined a rapidly growing list of interactive apps catered to architects and architecture fanatics. Brought to you by planet architecture, you may now explore the iconic 1930's Pennsylvania home right from your media device. Get a behind-the-scenes tour through hundreds of photographs, floor plans, archival drawings, VR panoramas and over 25 minutes of video clips from the documentary film "Frank Lloyd Wright's Fallingwater". As architecture continues to join the interactive world of apps, we cannot wait to see which architect or project will be next! Learn about the Zaha Hadid Architects app here.
Continue after the break for more screenshots and video.
On October 2nd Zaha Hadid Architects launched their much anticipated (to us architecture nerds anyways) iPhone and iPad App, made available through Apple and iTunes. This new App will allow users to browse through ZHA current portfolio of design and architecture. In a future update to the App there will be exclusive access and insight into some of the award winning buildings in the form of interactive guides (coming soon) to be used when visiting Zaha Hadid's buildings.