Architects: Aires Mateus, João and Andreia Rodrigues
Location: 7050 Montemor-o-Novo, Portugal
Year: 2014
Photographs: Nelson Garrido
This Financial Times article describes the Post-Recession paradigm shift occurring in Portuguese architecture — from construction to landscape, large to small. Pritzker Prize winners Alvaro Siza and Eduardo Souto de Moura have been leading this "micro" trend, designing hotels with exceptional materiality and craft. We've decided to round up some of these extraordinary structures, including: Casa Na Areia and Cabanas no Rio by Aires Mateus, Jorge Sousa Santos' Rio do Prado, the Ecork Hotel by Jose Carlos Cruz and Villa Extramuros by Jordi Fornells. Last but not least, is ArchDaily's building of the year for hospitality architecture — the Tree Snake Houses from father Luís Rebelo de Andrade and son Tiago Rebelo de Andrade.
The prestigious Portuguese office Aires Mateus – formed by brothers Manuel and Francisco Aires Mateus – has won a competition to design the new headquarters of the University of Architecture in Tournai, Belgium.
Aires Mateus - founded by brothers and partners, Manuel and Francisco Aires Mateus – is an acclaimed contemporary practice that upholds the strong tradition of Portuguese architecture. We recently had the chance to interview one of the partners: Francisco Aires Mateus.
Francisco Aires Mateus has been a professor in Portugal and Norway. Currently, he teaches at the University of Lugano and has given lectures and seminars in Spain, the United Kingdom, Argentina, Mexico, Canada, Chile, Japan, and many other countries.
Aires Mateus has been awarded with the FAD Award on several occasions, and has also been a finalist for the Mies van der Rohe Award.
Projects by Aires Mateus on ArchDaily:
Thanks to the FAD Universidad Finis Terrae for making this interview possible.
Architects: Aires Mateus
Location: Comporta, Portugal
Architects In Charge: Manuel & Francisco Aires Mateus
Coordination: Maria Rebelo Pinto
Collaborators: Luz Jiménez, David Carceller
Area: 26 sqm
Year: 2013
Photographs: Nelson Garrido
Architects: Aires Mateus
Location: Alcacer do Sal, Portugal
Architect In Charge: Francisco Aires Mateus & Manuel Aires Mateus
Design Team: Giacomo Brenna, Paola Marini, Anna Bacchetta, Miguel Pereira
Area: 0.0 sqm
Year: 2010
Photographs: FG+SG | Fernando Guerra
In the exteriors of the Arsenale we found Radix, the installation designed by Portuguese office Aires Mateus (Francisco and Manuel Aires Mateus), an elegant contemporary response to the architectural setting of the Biennale.
The installation recognises the nearby docks of the Arsenale designed by Jacopo Sansovino between 1568 and 1573, which is flanked by arched walkways that inspire this structure. Radix is an arch supported on three points with the fourth corner hanging over the water,  turning the otherwise massive steel structure into a lightweight balanced volume.
More pictures after the break.
Architect: Aires Mateus
Location: Aroeira, Portugal
Design Team: Manuel Aires Mateus, Francisco Aires Mateus
Date of construction: 2009-2010
Collaborators: Francisco Caseiro, Catarina Bello,Serena Santini
Client: private
Engineer: AFA consult
Constructor: 2GM
Surface Area: 1500 sqm
Building Area: 300 sqm
Photographer: Courtesy of Aires Mateus
Architects: Aires Mateus
Location: Sines, Portugal
Project Authors: Manuel Aires Mateus & Francisco Aires Mateus
Project Leader: Jorge P. Silva
Collaborators: Rodolfo Reis Dias, Bruno Moura Anes, Pedro Anão, Cristina Fuertes Miquel, Amparo Burgos Garcia
Client: Câmara Municipal de Sines
Structural Engineer: Miguel Vilar – BETAR
Electrical Engineer: Raul Serafim
Water Engineer: Marta Azevedo – BETAR
Constructor: A.M.Mesquita
Construction Coordination: Emília Martins
Site Director: António Pinto
Project Area: 8,065 sqm
Project Year: 2005
Photographs: Daniel Malhão
Architects: Aires Mateus
Location: Lagoa das Furnas, Portugal
Collaborators: Valentino Capelo de Sousa, Mariana Barbosa Mateus, Catarina Belo, Francisco Caseiro, João Caria Lopes
Client: SPRAçores
Project area: 1,130 sqm
Project year: 2008 – 2010
Photographs: FG+SG – Fernando Guerra, Sergio Guerra
Architects: Aires Mateus
Location: Comporta, Grândola, Portugal
Client: João Rodrigues
Collaborator: Humberto Fonseca
Coordinator: Maria Rebelo Pinto
Project area: 180 sqm
Project year: 2008 – 2010
Photographs: Nelson Garrido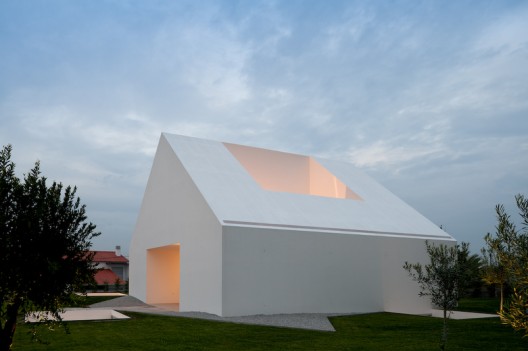 Architects: Manuel Aires Mateus
Location: Leiria, Portugal
Collaborator: Humberto Fonseca, Luísa Sol, Tiago Santos
Project year: 2008 – 2010
Photographs: FG+SG – Fernando Guerra, Sergio Guerra
Architects: Aires Mateus
Location: Lisbon, Portugal
Project Leaders: Valentino Capelo Sousa, Bruno Moura Anes
Collaborators: Patrícia Marques, Maria Rebelo Pinto, Tiago Mestre, Afonso Almeida Fernandes
Client: "Mar do Oriente" Cooperative
Structural Engineer: José Nascimento
Air treatment: João Soares
Electrical Engineer & Communications: Saraiva de Figueiredo
Acoustics: José Nascimento
Landscape design: Margarida Quelhas
Constructor: Empreiteiros Casais
Surface Area: 7,200 sqm
Built Area: 16,700 sqm
Project Year: 2008
Photographs: FG+SG – Fernando Guerra, Sergio Guerra
Architects: Aires Mateus
Location: Santo Tirso, Portugal
Collaborators: Marco Arraiolos, Anna Bacchetta, Bruna Parro
Engineering: AFA Consult
Client: Portugal Telecom
Constructor: LENA / ABRANTINA
Surface Area: 4,700 sqm
Built Area: 3,985 sqm
Project Year: 2009
Photographs: João Morgado