Architects: Alan Chu & Cristiano Kato
Location: Ilhabela, Sao Paulo, Brazil
Project year: 2008
Site area: 8,000 sqm
Constructed area: 36 sqm
Photographs: Djan Chu
Architects: Alfonso Alzugaray + Carlos Urzainqui
Location: Cadiz, Spain
Collaborators: Leire Leoz y Jesús Ramírez
Project Year: 2008
Project Area: 640 sqm
Photographs: Iñaki Bergera
Editor's note: We welcome Bob Borson to ArchDaily. We will be presenting periodic updates from his popular blog Life of an Architect, generating a space for conversation among architects.
So school started a few weeks ago and architecture students are back in the studio environment – Aaahhhhh (breathing deeply) the familiar smell of despair, B.O. and basswood. There are a few things that I thought I would share with all you new studio rats. These are things you will probably have to figure out for yourself but I wish someone had told me some of these things when I was still spending 35 bazillion hours a week up at studio. There are many different experiences people might value from their time spent with other future architects but I would like to expose some commonly held urban legends associated with architecture and design studios.
Vert House, a low-cost sustainable house design, has been approved and adopted by Houston Habitat for Humanity. Designed by Yonatan Pressman and Courtney Benzon, graduate architecture students at Rice University, the 1,300 square-foot, 3-bedroom house will be constructed by Rice students and alumni in Spring 2012 as the Rice Centennial House, a student initiative in honor of of the university's centennial celebrations. The design will also be added to Houston Habitat's portfolio of home designs for additional builds in the future. More information on the project after the break.
We have previously featured 1111 Lincoln Road by Herzog & de Meuron. We focused mostly on the building and interior design, but the landscape is equally note worthy and should not be missed. Raymond Jungles, the project's landscape architect, generously shared with us the project from his perspective.
Landscape Architect: Raymond Jungles Inc
Location: 1111 Lincoln Rd, Miami Beach, Florida, USA
Landscape Architect of Record: Raymond Jungles, FASLA
Design Architect: Herzog & de Meuron
Client/Owner: Robert Wennett and the City of Miami Beach
General Contractor: G.T. McDonald Enterprises, Inc.
Landscape Contractor: Superior Landscaping, Inc.
Specimen Tree Broker: Sean Jacobus Company, Inc.
Landscape Contractor: Plant Creations, Inc.
Lighting Consultant: Leni Schwendinger, Light Projects LTD.
Civil Engineer: Kimley-Horn and Associates, Inc.
Aquatic Consultant: Biscayne Aquaculture
Urban Soil and Tree Consultant: James Urban
Bromeliad Donations: Bulis Bromeliads
Silva Cell Installation/Design: Deep Root Partners
Project Area: 43,560 sqf
Photographs: Steven Brooke
During the last week of August, the first installment of Spielberg's Rising aired on the Discovery Channel.   Throughout the three hour segment, the documentary played to viewers' emotions by sharing family members' stories of that day and introducing us to a few iron workers who are slowly, but surely, bringing the Freedom Tower to life.    The documentary also featured amazing visualizations showing the complex while designers' discussed the strategies behind the project.  Back in 2002, dbox: a branding & creative agency, with studios in New York, London and Taiwan, became involved with the WTC and has been working on one or more of the projects at the site.  In collaborated with KPI, executive producer Steven Spielberg and DreamWorks, dbox provided brand identity, graphics, CGI and aerial cinematography for the Rising series which affords us glimpses into the future and reveals to the world the renewed skyline of New York.  We love the sunlight catching the edge of the sleek Tower and, for those familiar with the PATH at the WTC, the atmosphere shown in Calatrava's transit hub leaves us anxiously awaiting its completion.  Take a look at the images and let us know which is your favorite.
View more illustrations after the break.
Architect: 57Studio
Location: Santiago, Chile
Project Year: 2008
Project Area: 1,658SqFt
Collaborators: Felipe Zamora
Construction: 57Studio + Francisco Sass0
Structural Engineer: Roberto Ibaceta
Photography: 57Studio, Luly Pozo, Mauricio Fuertes
Idyllically located on the mud flats of the Exbury bank of the Bealieu River, The Egg is a project that young architectural practice, Perring Architecture + Design (PAD)…, are developing in partnership with ArtSway, a contemporary visual arts organization
The winners of the 3rd International Holcim Awards competition for sustainable construction projects and visions from Africa Middle East have been announced at a ceremony in Casablanca. A total of USD 300,000 was presented to ten outstanding projects submitted by architects, planners, engineers and project owners. The winning projects illustrate the broad scope of applying sustainable approaches in construction including school infrastructure, community renewal, urban redevelopment, and energy-efficient design. More information on the awards after the break.
Architects: Ahlbrecht Felix Scheidt Kasprusch
Location: Essen, Germany
Project Year: 2010
Project Area: 6700 sqm
Photographs: Deimel & Wittmar
Architect: Shimizu + Coggeshall Architects
Location: Santa Monica, California, United States
Project Team: Joshua Coggeshall, Janice Shimizu, Sean Harris, Ryan Klinger, Danny Mascari
Project Area: 2785 sf
Project Year: 2010
Photographs: Joshua White
The New Taipei City Museum of Art conceptual design proposal by Yi-Hsiang Chao Architects and Infinite Studio… was initiated from a basic question: How does a museum allow the public to experience a seamless fusion between life and art? A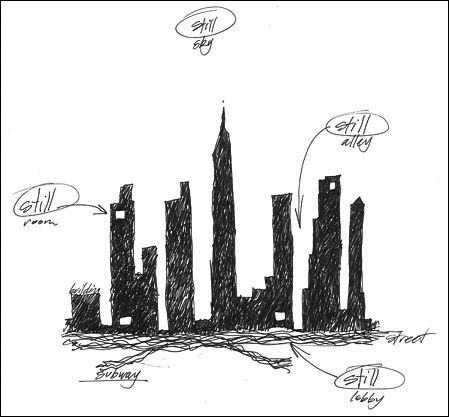 The second iteration of stillspotting nyc–a two-year multidisciplinary project that takes the Guggenheim's programming into the streets of New York City–features Estonian composer Arvo Pärt and U.S. and Norway–based architecture firm Snøhetta in collaboration on urban soundscapes around Lower Manhattan. To a Great City, the Manhattan edition of stillspotting nyc, will be open to the public for two extended weekends on September 15–18 and 22–25, 2011. The installations explore the relationship between space and sound.
The architects have selected, and sometimes altered, urban spaces embodying the concept of a central tone, extending the perception of sound in the realm of space. Visitors will experience the confluence of music and architecture at five locations that quietly celebrate the city, ten years after September 11th. Around the periphery of Ground Zero, "participants may encounter a green labyrinth created by The Battery Conservancy, reflect in an underground chamber at Governors Island National Monument, and enter otherwise inaccessible spaces in landmark skyscrapers." Participants can visit spaces multiple times at their leisure to understand how their perception changes based on circumstances such as time, stress, appetite, and sleep.
Exhibition: stillspotting nyc: manhattan (To a Great City by Arvo Pärt and Snøhetta)
Venue: Five locations, starting at Castle Clinton National Monument in Battery Park, across from 17 Battery Place, New York, NY
Dates: September 15–18 and 22–25, 2011
Read the press release here: http://www.guggenheim.org/new-york/press-room/releases/4219-stillspottingmanhattan
This week, with the help of our readers, our Architecture City Guide is headed to Tokyo. Similar to Berlin, Tokyo's architecture is overwhelming modern due its destruction during the 20th Century. We put together a list of 12 modern/contemporary buildings that we feel provides a good starting point. It is far from complete. There are dozens of other great buildings that are not our list, and we are looking to add to the list in the near future. Please add your favorites in the comment section below so we can add them on the second go around. Again thank you to all our readers who sent in their suggestions and photographs. The city guides would not be possible without your help.
To check out other cities visit our world map or our Architecture City Guide page.
The Architecture City Guide: Tokyo list and corresponding map after the break.