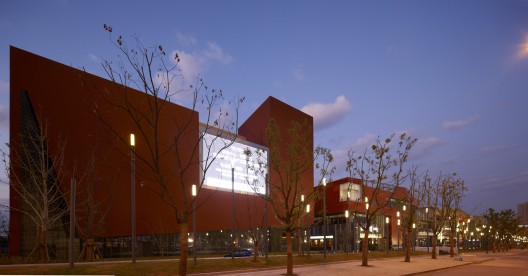 Architects: Lacime Architectural Design
Location: Hefei, Anhui, China
Design Team: Song Zhaoqing, Wang Ya, Cai Jingkai, Chen Bin, Jin Guangxian, Liu Yang
Client: Golden Land Real Estate
Collaborators: Chen Bing, Jin Guangxian, Liu Yang
Area: 83452.0 sqm
Year: 2011
Photographs: Shi Jinzhong
Designed for the 2013 Melbourne Food and Wine Festival, the Urban Coffee Farm and Brew Bar by HASSELL attempts to play on this element of intrigue and surprise, creating an unexpected landscape in a familiar urban setting. The architects' design brings a jungle of coffee trees on the edge of a central business district which opened just last week and runs until March 17. More images and architects' description after the break.
Taking advantage of solid timber's unique benefits, the Timber Café by BAKOKO, an emerging Tokyo architecture practice, is a proposal for a sustainable pop-up restaurant. The temporary building can be flat packed into a standard 40′ shipping container and erected with a crane in a mere day. Once assembled, this wooden box is remarkably self-stable. It does not need a permanent foundation, making it suitable almost anywhere. More images and architects' description after the break. (more…)
NEX recently won the Cadogan Café design competition, organized by Malcolm Reading Consultants. The £2 million project for a new café, which will sit near the entrance to the Saatchi Gallery in Duke of York Square in Chelsea, is an organic coiled form. Their design features a roof terrace and incorporates an ingenious glass wall that rises and falls depending on the weather. More images and architects' description after the break. (more…)
The aim for the design of the Varaždin University Student's Restaurant and Home was to connect the new building with the old student's home with the restaurant treated as a separate pavilion. This first prize winning design by SANGRAD Architects + AVP Arhitekti creates a new square between both buildings, which is defined by the main entrance to the existing building and the new restaurant volume. Along with the student's home on the west side, the restaurant has a visual connection with all three buildings through an access plaza, while the student's home towards the east continues the structure of the existing house forming a block. More images and architects' description after the break. (more…)
Architect: Dan Brunn Architecture
Location: Beverly Hills, California
General Contractor: Ken Nishio of Tokyo Construction, Inc.
Graphics / Logo: Julie Priceman of 6 Degrees LA
Audio Video: Jon Komen of Swayd Systems
Exterior Sign: Ruben Cielak of Tako Tyko
Chairs: Crassevig Srl
Custom table fabrication: Global Source Industries, Inc.
Bathroom tile: Iris Ceramica
Bathroom plumbing: Duravit & Toto
Counters: CaesarStone USA