Inhabitat has just featured an unlikely new student housing project in Johannesburg: Mill Junction, a student complex that consists of two former grain silos topped with shipping containers. According to its developers, Citiq Property Developers, the energy and money-saving project re-directs money towards communal facilities, proving popular with students. As a result, Mill Junction, the second shipping-container housing project built by the Developers, may be the second of many more. More info at Inhabitat.
For twenty-four hours only (until 5:59PM EST February 15th), ArchDaily readers have been given the exclusive opportunity to watch the documentary, MICROTOPIA, in its entirety, for free.
The film is a provocative look at the global trends of micro-housing, downsizing, and living off-grid. As the film-makers put it: "In an age of increasing population and technological gains, today's mobile society has resulted in a demand, or perhaps a dream, for portable dwellings and dwellings in new settings and situations. Microtopia explores how architects, artists and ordinary problem-solvers are pushing the limits to find answers to their dreams of portability,flexibility – and of creating independence from "the grid."[...] On the sidewalk, on rooftops, in industrial landscapes and in nature we will see and feel how these abodes meet the dreams set up by their creators."
Miss your 24-hour window? MICROTOPIA is available to rent for $3.99 on Vimeo.
Federico Babina has surprised us several times with his artistic work, from his "pixelated" versions of iconic characters (Parts 1 and 2) of architecture to his illustrations of architectural landmarks in the history of cinema. This time, the architect and illustrator delights us again with a new series entitled ARCHISET, which presents the sets of some of the most memorable scenes from classic films.
The series consists of 17 illustrations, cross-sections presenting the interior design and characters in films such as "A Clockwork Orange" by Stanley Kubrick, "All About My Mother" by Spanish Director Pedro Almodovar, and "Vertigo" by the master, Hitchcock.
Check out the full series, after the break.
Thanks to the popularity of last year's Architect Valentines, Jody Brown has come up with a whole new batch for you to enjoy in 2014. This article originally appeared in Coffee with an Architect.
Architects are a romantic bunch. But, we tend to be busy. We know we should stop working on this design for a while and go buy some flowers or chocolate or something. We know that. But, we have a deadline. Maybe we can pick up a card from the internet on the way home.
Here you go.
You're welcome:
The New York Times has run a fascinating thought experiment in rendered form: What would it look like if the winter Olympics were held in New York City? From luges through Times Square to ski jumps over Bryant park, the ideas are certainly fantastical – but also fun lessons in scale. See them all here.
An awesome documentary that somehow didn't fall on our radar in time to be included in our "40 Architecture Docs to Watch in 2014," MICROTOPIA is an in-depth look at fascinating, provocative micro-dwellings and the people who design/live in them.
MICROTOPIA is usually available to rent for $3.99 from Vimeo, BUT ArchDaily readers are receiving an exclusive offer to stream the documentary – absolutely free – for 24 hours only. So make sure to tune in from 6pm EST on February 14th to 5:59PM EST February 15th for this one-time opportunity.
For more about MICROTOPIA, check out the awesome trailer above, and read more information on the doc, after the break.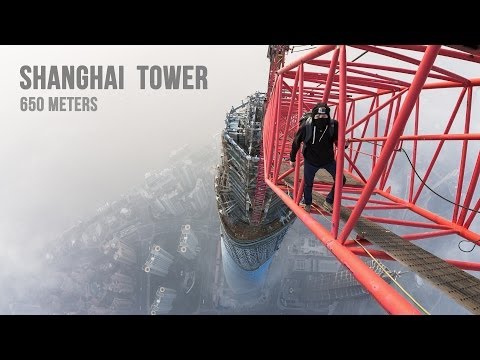 "We prepared carefully and picked an appropriate date, the Chinese New Year day. At that time the security was less watchful, workers were on vacations, and cranes did not work. We got to the crane at around midnight. [...] The result you can see in our new video."
Those are the rather unassuming words of Vitaliy Raskalov, a Ukrainian "roof-hacker, urban-explorer, blogger" who has just pulled off an extraordinary, jaw-dropping stunt (way more incredible than his humble words would suggest).
Raskalov and Russian photographer Vadim Mahora broke into and climbed the Gensler-designed Shanghai Tower, soon to be China's tallest and the world's second tallest skyscraper at 632 meters (2,074 feet) high. Although the tower will eventually boast the world's fastest elevators (reaching 40mph), the pair had to climb the 120 flights of stairs by foot (taking them about two hours); they then spent another 18 hours sleeping and waiting for the weather to clear. The staggering resulting images show not just the dizzying heights, but also fantastic views of the adjacent Jin Mao Tower and Shanghai World Financial Center (together, the trio of buildings that are re-defining the Shanghai skyline).
Check out the incredible images, after the break.
The flurry of criticism that erupted when MoMA announced its plans to demolish the American Folk Art Museum (in its new plans for expansion, designed by Diller Scofidio + Renfro) has yet to settle. After the break, we offer a more complete round-up of the critics' reactions – including Paul Goldberger's of Vanity Fair, Michael Kimmelman's for The New York Times, and more…
Barcelona-based architect and graphic artist Federico Babina is at it again, this time creating an imaginary "Archibet City" guided by the language of architecture. From Alvar Aalto's Riolo Parish Church to Zaha Hadid's Library and Learning Centre in Vienna, the collection reimagines 26 famous works of architecture into a set of letters that, as Babina describes, expresses the "heterogeneity of forms and styles" that make up our profession. Each letter is drawn according to the interpretation of an architect's style, forming part of the cityscape that Babina refers to as "Archibet".
See the whole set, after the break…
Architectural photographer Yohan Zerdoun has sent us this lovely video that explores the Peres Center for Peace, by architects Massimiliano & Doriana Fuksas, in Tel Aviv. With a keen eye for detail and an understanding of the building's human scale, Zerdoun sets up each shot so that the architecture – and its gorgeous context – can be truly appreciated. Enjoy!
Gautam Bhatia is an architect based in New Delhi and one of the most well-known architectural writers in India, having written for The New York Times, Outlook magazine and Indian Express.
We live today the way we do because we know no other. Our lives fit the defined patterns of homes, streets, neighborhoods, cities. As an architect I try to understand and explore – through drawing – different possibilities of building and landscape. More and more, drawing has taken me away from the conventions of architecture, into more abstract realms. Drawing has helped define space as it doesn't exist, and perhaps as it should. Not in a utopian way, but one that tries merely to describe a different way we may live.
The following 20 articles are what we at ArchDaily consider the Best of 2013. They may not have received the most traffic, but they posed fascinating theories about the state of architecture and urbanism today, they gave us insight into the creative processes of innovative architects (from Bjarke Ingels to Peter Zumthor) and, most of all, they provoked us to question: What does architecture mean? For us architects, and for the world?
See all our editors' picks for the best articles of 2013, after the break..
It's that time of year again! The time when we round-up what you, our dear readers, most enjoyed this year. The following ten articles – from fun lists (30 Architecture Docs to Watch in 2013) to thought-provoking looks into the state of the architecture profession (Are Renderings Bad for Architecture?) – caught your attentions and provoked some great comments. See them all – including our record-breaking #1 article – after the break.
ArchDaily is in need of an architecture-obsessed, history buff to delve into the world of ArchDaily Classics for Spring 2013 (January 15th – May 15th)! If you want to spend your days researching/writing about the best architecture around the globe – and work for the world's most visited architecture website – then read on after the break…