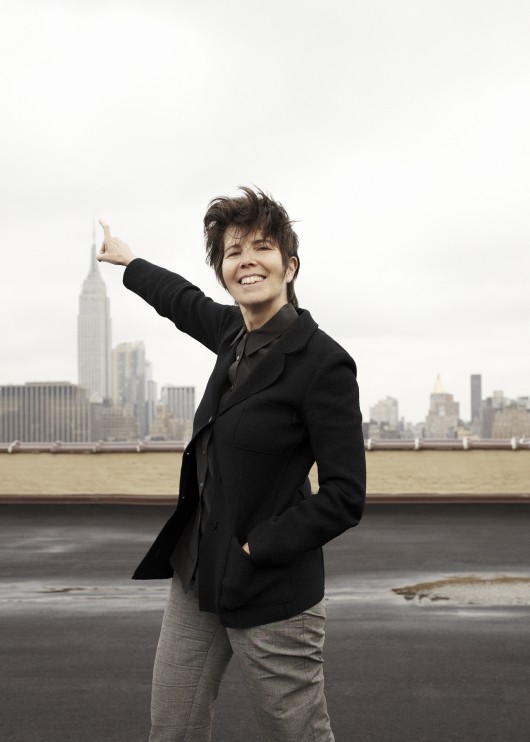 Below is an excerpt of the cover story of this month's Surface magazine: an in-depth interview with Elizabeth Diller, published online for the first time here on ArchDaily.
The 35-year career of Elizabeth Diller, a founding partner of the New York–based architecture studio Diller Scofidio + Renfro, is a study of contrasts: conceptual and pragmatic, temporary and permanent, iconoclastic and institutional. After graduating from Cooper Union in 1979, Diller started her practice mounting temporary installations with her partner and future husband, Ricardo Scofidio, their interests leaning closer to art and theory than conventional buildings and construction. Today the duo—along with Charles Renfro, who became a partner in 2004—is responsible for some of the most important architectural projects in the country. DS+R counts Boston's Institute of Contemporary Art (completed in 2006) and a makeover of New York's Lincoln Center (finalized in 2012) among its highest-profile works. Especially influential, at least among architects and academics, has been the firm's unbuilt Slow House (1991), a proposal for a residence on Long Island, New York, renowned for its examination of how we see in a media-saturated world.
One notices sharp contrasts not just in the firm's work history but in its public reception as well. Widely lauded for repurposing a dilapidated elevated railway into New York City's beloved High Line park (the third phase opened in September), DS+R received heavy criticism this year for its involvement in a major expansion proposal for the Museum of Modern Art. The museum's plans included the demolition of its little-guy neighbor, the American Folk Art Museum; despite efforts to work the idiosyncratic building into the design scheme, Diller's studio, hired to lead the expansion, ultimately acknowledged that the structure couldn't be saved.
Surface recently met with Diller at her office in Manhattan to speak about the ensuing controversy, as well as early career experiences that have influenced her firm's recent commissions for cultural institutions, including the current exhibition "Musings on a Glass Box" at the Cartier Foundation in Paris (through Feb. 25, 2015), a collaboration with composer David Lang and sound designer Jody Elff. Diller, 60, is pensive and surprisingly relaxed for someone whose aides are constantly interrupting her to remind her of meetings she has to attend. She speaks with an erudite inflection befitting her academic credentials and professional accolades (she is, after all, a professor at Princeton and a MacArthur "genius grant" recipient), though she smiles with the ease of an affable neighbor.
During his recent trip to Chile, organized by the Harvard David Rockefeller Center For Latin American Studies, we caught up with the Dean of Harvard's Graduate School of Design (GSD), Mohsen Mostafavi, to see what challenges he thinks are facing the future of architecture education and to learn more about his work on ecological urbanism.
"[Architecture is] both a singular discipline, but at the same time it needs to be a collaborative discipline. It's at once focusing on disciplinary knowledge but at the same time trans-disciplinary practicing; therefore it means that architectural education has to find new venues for collaboration," he said.
"I think the GSD is very well-positioned to address key societal issues today because first, we're a very multidisciplinary school in the sense that we believe strongly both in the focus of individual disciplines like architecture, but also on the inter-relationship between architecture, landscape architecture, urban planning and urban design. "
Watch the full interview above to see what else Mostafavi had to say about architecture school, the role of architecture in society and ecological urbanism.
Berlin-based editor Max Tholl of The European Magazine has shared with us his interview with Norman Foster on the role of architecture in today's society. 
The European: Lord Foster, architects design buildings that will characterize cities for decades or even centuries to come. How difficult is it to design buildings for an unknown future?
Foster: Flexibility is a key consideration. We design with an awareness that circumstances will change – that a building's context will evolve; it may be used in different ways and will need to incorporate new technologies that we cannot yet predict.
The complete interview, after the break. 
"We need a new generation of cities in China" - Siegfried Zhiqiang Wu
As the tide of urbanization sweeps across most of the developing areas in China, the building frenzy has become a Chinese phenomenon. Some people are making money from it, some people are getting power from it, and some people are worrying about it. Recently, a new set of policies and reports have been published by the Chinese central government, and the whole society seems to be boosted by the new talk of a Chinese Dream. But, what is really happening inside China? Can it absorb this enormous growth? And, will urbanization continue in a proper way?
As the chief planner of the 2010 Shanghai Expo, Siegfried Zhiqiang Wu has been deeply involved for years in many of China's main urbanization projects. It was almost midnight when we met Professor Wu in Shanghai, and although Wu had just gotten off a night flight from Beijing, his passion, frankness and intelligence remained undoubtedly impressive. In the following edited talk with interviewer Juan Yan, Professor Wu discusses China's dramatic urbanization, its architectural culture and the future of smart cities.
Brian MacKay-Lyons is the founding partner of MacKay-Lyons Sweetapple Architects, a professor at Dalhousie University and the founder of Ghost Lab - the now legendary 2-week summer design/build program that took place on his family farm in Nova Scotia from 1994 to 2011. While relentlessly local, Brian's work has been recognized internationally with more than 100 awards, 300 publications and 100 exhibitions. In 2012, the American Institute of Architects recognized the collective work and influence of Ghost with an Institute Honor Award for Architecture.
On August 22nd, 2014 Brian hopped off his tractor and wiped the diesel fuel off his hands to discuss architectural education with Keith and Marie Zawistowski, co-founders of the design/buildLAB at Virginia Tech and partners of OnSite Architecture. Here is an excerpt from their conversation, which was originally published on Inform:
Keith Zawistowski: Your contributions to the discipline of architecture have been both in practice and in education. In 1994, you founded Ghost, an international laboratory that influenced all generations of architects with its simplicity and this affirmation of timeless architectural values of place and craft. It was a pretty bold move and it seems for us like it was a direct reaction to your discontentment with academia and the way architects were being educated. Do you still feel that strongly about the state of architecture education and the profession?
Having taught architecture for almost fifty years, Sir Peter Cook has seen generations of architects go from student to high-profile practitioner. In almost half a century, though, architecture education has not particularly moved on: "I don't see the general situation as being any more progressive than it was when I was a student," he says.
Cook tells ArchDaily that instead of focusing on curriculum, structure and countless other preoccupations of many schools, "my experience is that doesn't matter, it depends who's teaching and how enthusiastic they are and whether they understand people," adding that "a really good architecture school is like a village," with tutors who simply don't go home because they are enjoying it so much (or perhaps for other, less innocent reasons).
In addition, Cook also explains that there is potential for a radical shift in the understanding of architecture education, so that we think of it not only as a route into an architectural career, but rather as a route into a whole host of other jobs. "I know people who have science degrees but they actually organize railways," he says. "There's a role for a wing of architectural education at a certain point to take off and say, 'that person is never going to design buildings, but a certain form of architectural education can enable them to look at the world in more depth.'"
Xten architecture is a California and Switzerland based practice lead by couple Monika Häfelfinger and Austin Kelly. Recently joining the open source architecture platform Paperhouses with the Box House, Austin Kelly spoke with Paperhouses founder Joana Pacheco about architecture, sustainability, construction and working internationally.
Read on after the break for the interview.
A self-trained American architect residing in Phoenix's urban desert, Will Bruder, FAIA, has built a reputation for being one of Arizona's most prized place-makers. For more than 40 years, Bruder has refined his craft with the completion of over 500 commissions ranging from large-scale civic and cultural projects to private residences and multi-family housing.
Trained first as a sculptor with a Bachelor of Fine Arts degree from the University of Wisconsin-Milwaukee, Bruder pursued the art of building with an architectural apprenticeship under Paolo Soleri and Gunnar Birkerts. In 1974, Bruder opened his first studio in Arizona, Will Bruder Architects, where he still serves as a community-based architect and student mentor, while often participating in a number of visiting chairs and lectures at universities nationwide.
His most notable project is the Burton Barr Central Library; not only has the structure played a significant role in the evolution of downtown Phoenix, but it serves as an exemplar of Bruder's heightened awareness of movement, materiality and light.
Learn more about Bruder's design philosophy in the interview above and check out his projects on ArchDaily:
MAD Architects' "Silhouette Shanshui" – which lies somewhere between an installation and a model – is currently on display at the 14th Venice Biennale. The inspiration for the project is the firm's Nanjing Zendai Himalayas Center, a master plan with an overall area of 560,000 sqm that challenges how modern development is typically thought of in China. According to Ma Yansong, the founder of MAD Architects, the city-scale urban project is already underway with 13 towers under construction.
The European Union Prize for Contemporary Architecture - Mies van der Rohe Award is one of the most important and prestigious prizes for architecture within Europe. First established in 1987, the prize is awarded every two years, and a look at the projects over the years offers unique insight into the development of architecture across Europe. To better understand the significance and uniqueness of the award we spoke with two previous award winners – Kjetil Trædal Thorsen and Craig Dykers from Snøhetta and Dominique Perrault from Dominique Perrault Architecture – as well as Peter Cachola Schmal, an architect, critic and the director of DAM, the German Architecture Musuem, and Josep Lluís Mateo of Mateo Arquitectura and a professor of Architecture and Projects at ETH-Eidgenössische Technische Hochschule/ Swiss Federal Institute of Technology Zurich.
"This is the special thing about the Mies jury, that they do visit the top 5 projects, and see first-hand what this piece of architecture is about. And then they vote, which means the jury really knows what they're voting about," Peter Cachola Schmal noted.
"It's a prize for a project, rather than a prize for an architect," Kjetil Trædal Thorsen added.
Read on after the break for more on the Mies van der Rohe award and to see what the architects had to say about the importance of archives…
At the III Moscow Urban Forum, we had the chance to sit down with Russian architect Yuri Grigoryan, the co-founder of Project Meganom and the director of education at the Strelka Institute. Grigoryan also led the team that prepared the research project, "Archeology of the Periphery," a key part of the forum that focused on the challenges and strategy for developing Moscow's metropolitan area.
Sitting above the "Archeology of the Periphery" exhibition, Grigoryan told us what he thinks the role of an architect should be in society, what it's like to lead a firm and the importance of innovation. "Architects have two very important roles. One is to do the architecture and to be good in architectural design. And the second role is to build the bridge between architecture, research and society," he told us.
If you enjoy this interview make sure you check out our interview with both Grigoryan and Alexei Komissarov, the Moscow Government Minister and Head of the Department of Science, Industrial Policy and Entrepreneurship of Moscow, on the Forum and "Archeology of the Periphery."
Over a year ago, we shared a work-in-progress drawing project that captured our imagination with its combination of huge size and meticulously small details. Now, "The Happiness Machine," Mark Lascelles Thornton's 8-foot by 5-foot, three year long drawing project is complete, after over 10,000 hours of painstaking work.
Lascelles Thornton, a self-taught London-based artist who describes himself as "one of those kids that was drawing before I was talking," created the artwork as a response to the global financial crisis, focusing on themes of socio-economics, consumerism, globalism, resource shortages, urbanism and architecture. We spoke to Lascelles Thornton about his artwork, discussing the themes of the piece and the commitment – or, as he describes it, "emotional engineering" – required for such a colossal undertaking.
For the full interview – and detailed images of the drawing – read on after the break
As one of EMBT's Directors, Salvador Gilabert has helped guide the realization of some of the practice's biggest projects in recent years – including as project director of Spain's 2010 Shanghai Expo Pavilion and the recently completed Barajas Social Housing Block.
Last month, he took a week out of his schedule to lead a project at Hello Wood, where – with an energy and intensity that was almost out of place in the relaxing surroundings of the Hungarian countryside – he led a group of students to construct an ambitious, screw-free elevated platform that emerged from a cluster of trees and offered views of the setting sun. ArchDaily caught up with Salvador Gilabert during the week to find out more about his work.
Read on after the break for the full interview
Architecture is not important. You can make a microclimate or situation, but you cannot have more influence about life or the urban situation, it's just a very small operation you are working on, and you cannot control the situation of the city.. But even if you are just working on a single object here, you can always try to have more or less a positive influence on the city, you can always contribute in your way to the city, to the citizens. But in a larger view it's not that important; it's you or somebody else. The people are happy or not, their happiness is not relying on your architecture." – Qi Xin, Beijing, 2013
Shedding light on topics from China's rapid urbanization to the issue of copycat architecture, this interview of Chinese architect Qi Xin conducted by Pier Alessio Rizzardi questions the role of architecture in Chinese society, and reveals the mindset of the modern Chinese architect. Qi Xin's answers challenge many of the myths surrounding Chinese architecture, often through one-line gems such as "what is permanent for Chinese people is the spirit, not material," and "the most important thing is that we don't know where we are going… we are making the future cities."
At the New Cities Summit – held last year in São Paulo – we caught up with Eric Bunge of New York-based practice nArchitects outside of Oscar Niemeyer's Ibirapuera auditorium. The summit's theme was centered on the future of cities and Bunge was presenting his firm's My Micro NY project, which was the winning design of former New York City mayor Michael Bloomberg's adAPT NYC competition. "We're kind of influenced by New York itself as a microcosm. Our project looks a little bit like a microcosm of the skyline. We're interested in this idea of re-inventing what micro is and how much of New York you can inhabit," Bunge said regarding the project.
According to Bunge, housing is based on regulation and therefore one of the most constrained things to design. "I think we can reinvent housing," he told us.
Watch the full interview to learn more about Bunge's thoughts on reinventing housing, the inspiration behind his My Micro NY project and how he strives to address climate change in his projects.