Architect: Felipe Assadi / Assadi + Pulido
Location: Santiago, Chile
Collaborators: Pablo Casals, Francisco Duarte
Project year: 2008
Constructed Area: 400 sqm
Material: Scaffolding, Hunter Douglas aluzinc stripes, Wood
Photos: Felipe Assadi & Nicolás Saieh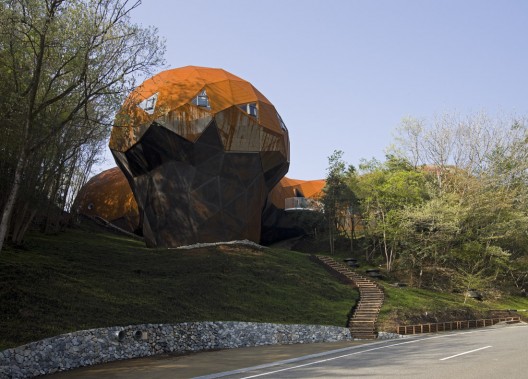 Architects: Shuhei Endo
Location: Sayo-cho, Hyogo, Japan
Project team: Kengo Sasamoto, Aya Umemoto
Design year: 2005-2006
Construction year: 2006-2008
Principal use: Institution and exhibition of earth environmental
Site Area: 5,000 sqm
Constructed Area: 968 sqm
The University of Sheffield's state-of-the-art music practice and studio facility, the Soundhouse, is now complete. The striking development, conceptually designed by careyjones architects and delivered by Jefferson Sheard Architects, is completely enveloped in black rubber – a technique never seen before in the UK.
More info & pictures after the break.
Architects: Triptyque - Greg Bousquet, Carolina Bueno, Guillaume Sibaud e Olivier Raffaelli
Location: Sao Paulo, Brazil
Project chief: Tiago Guimarães
Project year: 2007- 2008
Construction year: 2008
Site area: 500 sqm
Constructed area: 1,060 sqm
Hydraulic engineer: Guilherme Castagna
Landscape: Peter Webb
Contractor: Bassani Arquitetos Construtores
Structure: Rika / Eng. Rioske Kanno
Photographs: Nelson Kon
Various Architects is a collaborative design office based in Norway, and they shared with us a very innovative project: a Mobile Performance Venue. Designed to host the performance "ID – Identity of the soul" (touring worldwide in 2009), the client requested a unique and iconic structure. Also, this venue needs to be mobile, so volume/weight were key on this design developed as a flexible ellipse structured with aluminium frames and an inflatable hexagonal skin.
Once built, it will be the world´s largest mobile performance venue, fitting on 30 standard containers for shipping.
Can´t wait till 2009 to see it? Be sure to check the test inflation of a  full scale mock-up, a preview of how it will look like when finished. Below, project description, plans and renderings. Thanks to Jim Dodson from VA for sending this in.
The iPhone can be a very useful tool for an architect, as it allows you to check drawings and even do sketches on site. But today i found this  new application for the iPhone OS v2.0: A-Level, an electronic version of the good ol'  bubble level. I have to recognize that it's a clever use of the iPhone's accelerometer. You can get it at the iTunes App Store for 99 cents. To download follow this link (it will open iTunes).
Seen on Wired Gadget Lab.
Public Farm 1, Work AC's installation for the PS1 opened on June 16th. The above video shows the construction process that took a month to be finished (May 15th to June 18th).
You can check the list of the DJs and artists that will playing at the PS1 this summer on the 10th version of the Warm Up Sessions (including LCD Soundsystem and Au Revoir Simone) here.
I still remember when i saw the cardboard tubes on their office,  and now they are part of this innovative green canopy. Below, pictures sent by photographer Elizabeth Felicella of the completed structure. She has more pictures available for editorials.
The Jewish Contemporary Museum by Daniel Libeskind we published some weeks ago opened this Sunday, and Fernando Herrera sent us a complete set of photos of the opening.
Now we can take a deeper look at the interiors and details of this remodelation of an old power plant adjacent to the Yerba Buena park in San Francisco, an area with great public spaces.
Photos and plans after the break.
Undoubtly, Wall House was one of the most innovative house designs in the last few years. But after winning the AR Emergent Awards 2007, being selected as one of the Record Houses 2008 by Architectural Record and their clients response, FAR frohn&rojas architects decided to go one step ahead and now they present Your Wall House, a customizable kit to build your own Wall House.
The kit goes from squematic drawings to a full custom climate concept, which will result on a variaton of the original Wall House according to personal needs, interests, local building code and the local climate conditions.
Kits and prices:
The 2008 Olympic Games aren´t just a gathering of athletes, it´s also a showcase of the most innovative buildings and technologies like GreenPIX, the Zero Energy Media Wall by Simone Giostra & Partners and ARUP, pictured above.
This curtain wall covers the front of the Xicui entertainment complex in Beijing, near the site of the 2008 Olympic Games. It features the worlds largest color LED display, powered by a photovoltaic system integrated into the glass curtain wall.
This Media Wall will showcase a selection of specially commissioned video installations and live performances by artists from China, Europe and the US, starting in May. Pictures, construction progress, diagrams and videos after the break.
Architects: Alison Brooks Architects – Alison Brooks, Michael Woodford
Location: Wandsworth, South London, UK
Client: Alex Wingate
Area: 400sqm per house
Construction start: Junio 2005
Completion: Diciembre 2006
Phase 1 contractor: Unimead Ltd
Phase 2 contractor: Kaymac Construction
Structural Engineer: Price & Myers
Mechanical and Electrical/Health & Safety: Peter Deer & Associates
Quantity Surveryor: Carruth Marshall Partnership
Photos: Cristóbal Palma
Wall house innovates on house design, through a sustainable soft skin. This house was awarded the 2007 AR Emerging Awards and selected as one of the 2008 Record Houses by Architectural Record.
Name: Wall House
Location: Lampa, Santiago, Chile
Completion: 2007
Project Team: FAR frohn&rojas – Marc Frohn, Mario Rojas Toledo, Amy Thoner, Pablo Guzman, Isabel Zapata
Structural Planning Wood: Ingewag Limitada, Santiago; Civil Eng. Mario Wagner
Structural Planning Concrete: Ing. Ernesto Villalon, Santiago
HWAC: Central TechnoPlus / Vaillant, building technology; Nelson Quilaqueo, Christian Aguirre
Model Building: Martin Baden, Dorothee Fritzsche, Carlos Ysenburg
Photos: Cristobal Palma