The Royal Institute of British Architects' (RIBA) latest Future Trends Survey indicates a small drop from February's index, "down to +35 from its all-time high of +41." Despite this, "confidence levels about an improvement in future workloads for architects remain very solid." All types of practice size, ranging from those with fewer than 10 employees to those with over 50 staff, are "reporting positive balance figures." The strongest future workload forecasts came from Scotland and the North of England, suggesting that "the recovery in confidence levels is now widespread across the UK and has spread beyond London and the South East."
This year's Venice Architecture Biennale focuses on the fundamentals of architecture, and the theme of "absorbing modernity." Official exhibitions will highlight the basics of modern building, but one exhibition (unaffiliated with the official biennale) will take a unique approach to the term. Architects Alison Killing and Ania Molenda will devote their installation to the most fundamental quality of all: death.
Titled Death in Venice, this presentation will focus on how architecture has facilitated the act of dying during the past 100 years. All of the funding for the exhibition materials has been provided by the Fund for Creative Industries NL, but to transport the show to Venice, Killing and Molenda have started a Kickstarter campaign.
The West Australian government has confirmed, HASSELL, COX Architecture and HKS will collaborate to design Australia's largest ever stadium project. The $900million project will see Perth's Burswood Peninsula transformed into a world-class sporting precinct by 2018. Included in the master plan is a new stadium that will hold some 60,000 spectators, a public tennis facility, significant transport infrastructure upgrades, such as a new train and bus station, and large public parklands. As negotiations continue between the firms and the West Australian Government, we should expect to see detailed drawings of the scheme by at least July with construction expected to begin by the end of this year.
Paraguay means "water that flows toward the sea" in the language of the country's indigenous Guarani people. It is no surprise, then, that Paraguay's entry for the 2014 Venice Biennale uses water as the primary structural member. Titled "Aqua Alta," the Paraguayan pavilion responds to the Biennale's focus on modern fundamentals by stating that modern architecture must achieve more with less.
Ieoh Ming Pei, the Chinese-American architect who is arguably the greatest living member of the modernist generation of architects, turns 97 today. When he received his Pritzker Prize in 1983, the jury citation stated that he "has given this century some of its most beautiful interior spaces and exterior forms."
Though known as a modernist, Pei has rejected the implications of globalism inherent in the "International Style," instead advocating contextual development and variation in style. He has commented that "the important distinction is between a stylistic approach to the design; and an analytical approach giving the process of due consideration to time, place, and purpose." On a trip to China in 1974 he even urged Chinese architects to look more to their architectural tradition, rather than designing in a Western style.
Pei's most well known work is likely his crystalline extension to the Louvre in Paris; other highly influential works include the Bank of China Tower in Hong Kong, the East Building of the National Gallery of Art in Washington DC and the JFK Presidential Library in Boston.
To celebrate I.M. Pei's birthday, we invite you to take a look over the catalog of his works here on ArchDaily:
French culture minister Aurélie Filippetti has revealed that negotiations for a "pop-up" Pompidou in Mexico City are underway. "The Centre Pompidou is exploring the possibility of establishing a temporary space here, a 'pop up' Pompidou," Filippetti told the Mexican newspaper Reforma. "It will come with their exhibitions, their expertise, not only the brand."
A report released earlier this month by Smart Growth America investigates the topic of urban sprawl in cities in the USA. Analysing 221 US Metropolitan Statistical Areas (MSAs) and Metropolitan Divisions with a population of at least 200,000, they have ranked cities from most dense to most sprawling.
They also used this data to find a number of correlations between sprawl and poor quality of life, finding that people living in sprawling cities have higher living costs, shorter life expectancies, increased risk of obesity and diabetes, and lower economic mobility than those in dense cities.
Read on after the break to see the list of the 10 most dense and 10 most sprawling US cities
Today marks the fifth anniversary of the opening of OMA's Prada Transformer. This fantastical temporary structure, erected in 2009 adjacent to Gyeonghui Palace in Seoul, Korea, is one of Rem Koolhaas' most popular projects to date. Composed of a stark white membrane stretched across four steel frame shapes, The Transformer was often referred to as an "anti-blob" –a hexagon, a rectangle, a cross, and a circle leaning against each other to create a tetrahedron-like object reminiscent of a circus tent.  The name Transformer came from the idea that any one of the pavilion's sides could serve as the building's floor, allowing for four unique spaces in one building devoted to exhibitions of modern art, fashion and design.
The Prada Transformer played host to four such events, being lifted up and repositioned onto a different face each time via crane. The first was a garment exhibition, displayed using the hexagonal  floor plan.  The second, a film festival that took place on the rectangular floor plan.  A fashion show was staged using the Transformer's circular floor plan, and an art installation was shown using the cruciform floor plan.  As patron Miuccia Prada stated in an interview with The New York Times, "In my mind they [the arts] may be mixed but I want to keep them separate… So the Transformer concept was not for a generic space, but to be very specific, with all things separate in one building."
We asked OMA's Vincent McIlduff to tell us more about this project. See his answers, a photo gallery and a time-lapse video of the transformation after the break!
Historically, large city-changing projects have depended on the personal interests of a powerful individual: someone able to swim across both political and financial waters. But recently, projects like the High Line have shown the power and potential of projects envisioned and led by local communities.
Back in 2011 we visted our friends at CASE in their West Village office and they introduced us to a small firm across the hall: Family. While the team was working hard on a model in the middle of their large table, partner Dong-Ping Wong showed us some of their recent projects. One of them immediately caught our attention. A floating pool for Manhattan. In the form of a cross, it would sit in the East River, filtering its waters into four pools. This amazing — and seemingly crazy — idea was tantalizing.
The Architectural League Prize, one of North America's most prestigious awards for young architects and designers, has been awarded to six emerging practitioners. Each recipient, whose work was deemed to be "exemplary and provocative" by the jury, presented their portfolios under the theme of "Overlay," as the term "directs – rather than merely reconstructs – process." This theme will now set the stage for a public forum in which each winner will use to exchange ideas.
The 2014 Architectural League Prize winners are:
Glasgow has just unveiled its new multipurpose structure which will end up revitalizing the Clyde Waterfront, which went into decline and neglect for many years following the closure of the town's major shipyards. After 8 years of construction, Foster + Partners' SSE Hydro now reveals its ETFE facade which is lit up every evening. During the day it manages to blend in with the usual changing Glasgow skyline.
The structure of the SSE Hydro Arena is covered by a 1.400 ton steel housing – one of the largest domes in Europe – and the ETFE translucent building enclosure allows one to discern what is happening inside from the outside. A 260 ton ring which supports the lighting is suspended from the dome, which will allow spectacular and customized lighting for each show.
The modern technology applied to this project contrasts with its interior structure that has been based on the Roman amphitheater, allowing each and every spectator at an event — which can be up to 13.000 — to have an optimal view of the stage. The viewing angle and comfort of the user is furthermore guaranteed by the special seating system designed by Foster + Partners along with Figueras International Seating.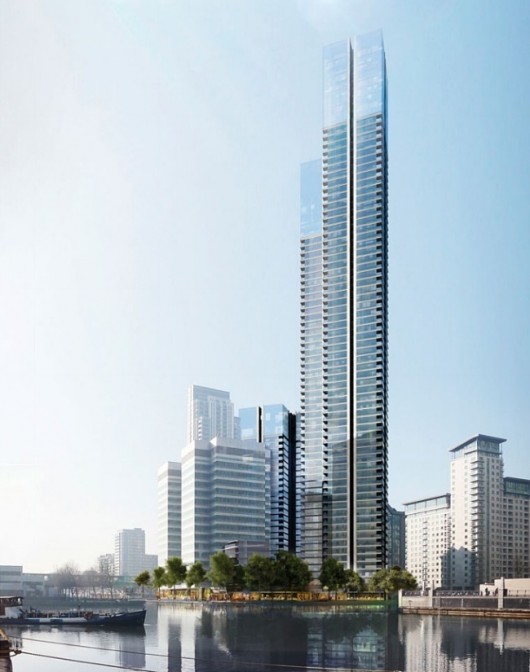 Foster + Partners has submitted plans for what would be the tallest residential tower in the UK. The "world-class development" includes a 73- and 36-story tower that would add more than 900 homes and 6,000 square meters of public space to the Isle of Dogs in east London.
"We will provide much-needed new homes, including new affordable homes, over an acre of new and enhanced public open space, a re-activated waterfront on to South Dock and the Millwall Cutting, as well as space for retail, bars and restaurants," Berkeley Homes regional managing director Harry Lewis. "This is a rare opportunity to deliver such significant, high-quality public realm in Canary Wharf."
Richard Serra has been announced as the first artist to win the Architectural League of New York President's Medal. Serra, an American sculptor known for his large-scale sheet metal installations, was honored for "contributions his work makes to the way we think about space, viewer and object, site, and materiality, concerns relevant to both architects and the artist."
Austrian artist, architect, designer, theoretician and Pritzker Prize laureate Hans Hollein has passed away twenty five days after he celebrated his eightieth birthday. Hollein, particularly known for his museum design, including Vienna's Haas House (1990) and Frankfurt's Museum of Modern Art, was once described by Richard Meier as an architect whose "groundbreaking ideas" have "had a major impact on the thinking of designers and architects."
See a selection of Hollein's work, from architecture to furniture, jewelry to glasses, to a high-rise in China, after the break…
UNStudio has won a competition to remodel the Hanwha headquarters in Seoul. With an aim to transform a building into a symbol of the leading environmental technology company's values, UNStudio's winning scheme will replace the skyscraper's opaque panelling and single layer of dark glass with an animated facade designed to reduce solar gain, increase natural light, generate energy, and interact with its surrounding.