Barry Bergdoll, Philip Johnson Chief Curator of Architecture and Design at New York's Museum of Modern Art and professor of modern architectural history at Columbia University, will present the 62nd A.W. Mellon Lectures in the Fine Arts Series. The Mellons are among the most prestigious art history lecture series in the world and have been delivered annually since 1952 at the National Gallery of Art, Washington, D.C. For this year's series, Bergdoll will present "Out of Site in Plain View: A History of Exhibiting Architecture since 1750."
More about the lecture series after the break…
Inspired by a childhood spent filming planes at LAX with an 8-millimeter videocamera, New York photographer and former Berkeley architecture student Jeffrey Milstein has turned his fascination for aviation into a career. Typically known for photographing the underbellies of aircrafts, Milstein's latest series captures the artistic composition and elaborate array of patterns formed by airports and only seen from above. He describes this series as revealing "the patterns, layering and complexity of cities, and the circulation patterns for travel, such as waterways, roads, and airports that grow organically over time much like a living organism."
More of Milstein's photography after the break…
Melbourne, Australia is about to reach new heights with Australia 108, a hotel and apartment tower designed by Fender Katsalidis. Last week the government of Victoria gave Australia 108 the green light to be built in the Southbank area. Upon completion, the tower will rise up 108 levels and 388 meters tall, which would make it the tallest building in the Southern Hemisphere.
More about Australia 108's design after the break…
On March 26th, architect Jeanne Gang of Studio Gang Architects will discuss how housing can evolve in multiple ways to address contemporary challenges in "Moving House," delivered as the Rice Design Alliance's 2013 Sally Walsh Lecture at the The Museum of Fine Arts in Houston. Dedicated to "honoring Walsh's groundbreaking foray into modern design by bringing cutting edge designers to Houston," the lecture is sponsored in collaboration with the Rice School of Architecture, the AIA Houston Chapter, and the Architecture Center Houston Foundation.
nARCHITECTS is designing a cultural education complex for the Wyckoff House Museum in Brooklyn on the site of New York's oldest house. The Wyckoff House has an immense history as it was the first landmark designated by the Landmarks Preservation Commission in 1968. nARCHITECTS's educational complex will act as a portal between its present day environment and historical site. Due to its exceptional spatial and temporal intervention, the design was recently awarded an AIA New York Design Merit Award.
The Klassik Stiftung Weimar will present the exhibition "Passion, Function and Beauty. Henry van de Velde and his Contribution to European Modernism" on March 24, 2013 at 11:00am. The press conference will be held at the Neues Museum Weimar in commemoration of  the 150th anniversary of the Belgian architect and designer Henry van de Velde.
The event will highlight over 700 loaned pieces of Van de Velde's greatest achievements coming from all over Europe as well as a few pieces from private collections that have not previously been released to public eyes. The exhibition depicts Van de Velde as one of the ground-breaking designers of modernism from 1890 to the late 1930s. Visitors can see his take on a "total work of art" through his interiors, book designs, furniture, metal, textile and ceramic works.
Click here to read more information on the press conference.
BrickItUp is a kickstarter project, created by Jose Luis, that allows for simple and intuitive 3D modeling. Block by block, users can easily create 3D spaces and environments without any limitations. BrickItUp caters well to collaboration and allows users to work on a project live with each other. When working in groups, users are able to see what each person is working on in real-time, making distance a negligible factor in collaboration.
More on BrickItUp after the break.
Architects: ATOMIC3
Architectural Design: Appareil Architecture
Lighting Design: ATOMIC3
Sound Design: Jean-Sébastien Côté
Interactive Systems Design: Philippe Jean/Les Ateliers Numériques
Technical Coordinator Set: Guillaume Simard
Technical Coordinator Sound/Light/Interactive System: Alexis Rivest
Year: 2012
Photographs: Courtesy of Martine Doyon, Montreal Quartier des Spectacles Partnership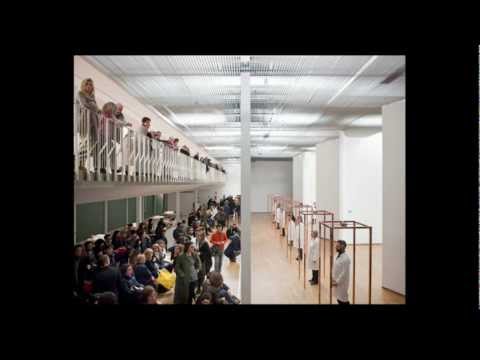 Harvard Graduate School of Design (GSD) recently held a lecture featuring performance artist Marina Abromović alongside OMA principle Shohei Shigematsu in the anticipation of the Marina Abromović Institute for the Preservation of Performing Art (MAI) 2014 opening. In the lecture, Shigematsu speaks about the process in which they transformed a former theater in Hudson, New York, into a structure that's capable of assisting the institute's mission to develop new kinds of performance, while functioning as a space for preserving and hosting historic performance pieces. Shigematsu references OMA's history of designing spaces that combine architecture and art, such as the Quebec National Museum and a recent collaboration with Kanye West.
More on this discussion after the break…
Who should design public spaces? Can public space make a meaningful contribution to solving the world's environmental problems? How should the success of a public space be measured?
These questions, as well as many more, will be discussed by public space scholars, practitioners, and activists at Harvard University's upcoming conference on public space, Putting Public Space in its Place. The conference will focus on physical public space, ranging from parks, streets, sidewalks, and other temporary spaces.
Calling all students, architects, designers, artists, engineers, scientists, and entrepreneurs!
The Buckminster Fuller Institute is looking for those who are committed to playing a transformative role in addressing the biggest issues in the world today and has announced a Call for Proposals for the 2013 Buckminster Fuller Challenge. This challenge is an annual global design competition known as "Socially-Responsible Design's Highest Award." The winner will be awarded a $100,000 cash prize to support the development and implementation of a solution that has significant potential to solve one of humanity's most pressing problems.
Developer Korean Air has recently unveiled the designs for the new 73-story Wilshire Grand tower in the financial district of Los Angeles, California. AC Martin Partners designed the plans for the $1 billion mixed-use office and hotel tower that will reach 1,100 feet, making it the tallest tower west of Chicago once completed.
Read more after the break…
Frank Gehry, born February 28, 1929, turns 84 years old today. Known for his use of bold, postmodern shapes and unusual fabrications, Gehry is one of the most acclaimed architects of the 20th century.
Gehry has always challenged the mainstream starting with his Easy Edges cardboard furniture design, sold between 1969 and 1973. With the money earned from Easy Edges, Gehry was able to start his architecture career, beginning with the remodeling of his home in Santa Monica. Gehry's design immediately caught the attention of the architectural world and he began regularly designing homes in Southern California in the 1980s. His work soon took on a grander scale, and by the end of the 20th century Gehry had received national fame.
We invite you to look through Gehry's both past and current impressive works:
Prefabricated design has come to be known as a fast, green, and cost-efficient way to create buildings. Although this technique has most prominently been used with small residential structures, it's now taken a turn towards greater, larger projects. With prefabricated towers and skyscrapers now in the works (and, in some cases, going up in as little as six days), pre-fab begs the question: is it really safe? Does quick production time lead to instability, making prefabricated buildings more likely to collapse?
Read more after the break.