For years, I've walked into buildings with an open eye towards architectural features – whether it be overall design, finishes, products, lighting or some other observation. It's amazing how working in the architectural, engineering, or construction industry will forever change the way you look at buildings. There should be special drivers licenses for those of us in this industry – how many car accidents have we collectively almost caused hitting the brakes on a busy street to catch a glimpse of a beautiful building?
That's the power of first impressions, though. It's a big factor in building design. As with any introduction – to people, places, or products – first impressions are critical. Like interviewing for a job, there's no denying the link between what the brain picks up in those first seconds, and the perceived quality over the life of that relationship. And by now we know that once humans are set in their ways, it's very, very hard to change them.
So what first impressions are given when occupants enter your building? Where are the focal points, and what do they say about your design?
For so long, these impressions have been created by details or monumental features high up in the ceiling, a work of art or some other visual piece. Building entrances, however, can play a role in shaping the occupant's experience and the ability to take in that focal point.
Maria Lorena Lehman, one of the leading experts on delivering exceptional occupant experiences through smart building design, has some good thoughts on this on her blog, Sensing Architecture:
"Part of every space is the entrance – don't neglect the importance of the threshold. This is where you may help occupants prepare for the visual stimuli they are about to take in, once inside. If there is no physical threshold, think of how the room's details, lighting, materials and overall geometries will get their attention as they gain greater focus of the room over time."
After all, it's hard to soak up the visual beauty of an architectural masterpiece if your trousers are busy soaking up what's on the floor:
That's where Floorometry comes in. A new take on the traditional world of entrance flooring, this new system from Construction Specialties, Inc. looks to give architects the ability to reimagine their buildings' entrances – creating those important first impressions and leading occupants to their intended destinations within those buildings.
We believe it is time to rethink flooring, particularly in our building's entrances. With the intelligent, creative, and beautiful designs being put out as architecture evolves – we need to leave the roll up mats for the convenience stores and back porches of the world. Let's do something architecturally significant – as an integrated part of the overall design.
The trouble in the past has been finding products that look great but also function in these high-traffic areas. How many times have you seen a beautiful finish be worn down with occupants slamming their shoes (ahem…heels!) into the floor day after day?
This is a sneak peek from the Floorometry catalogue showing off some of the finishes available in this new, easy-to-install entrance flooring product:
Here's how Floorometry is taking entrance flooring to a new level:
| | |
| --- | --- |
| Traditional Entrance Flooring | C/S Floorometry |
| Traditional linear design | Robust modular design for creative flexibility |
| Limited selection of finishes and colors | Thousands of finish options and combinations |
| Installation can be cumbersome | Installs like a tile |
| Architectural product | Architectural feature |
The culmination of years of market research, Floorometry was developed specifically for high-end buildings that demand a statement in the entranceway. As dynamic as Floorometry's visual appeal is, it is easy to forget that there was also careful attention paid to performance. Floorometry is incredibly effective at stopping dirt and moisture at the door, which means that other floor finishes will last longer and cost less to keep beautiful for many years.

Floorometry also contributes to multiple LEED credits including IEQ Credit 5, which requires designers to employ permanent entryway systems (grilles, grates, etc.) at least ten feet long at all high-traffic entryways. All Floorometry systems are constructed of materials carefully selected to be beautiful, long lasting as well as contain exceptionally high levels of recycled content.
Not only is this product designed with the environment in mind, it is also produced by a responsible manufacturer. To learn more about some of the environmental stewardship of Construction Specialties, Inc. take a moment to see the video and visit the links below.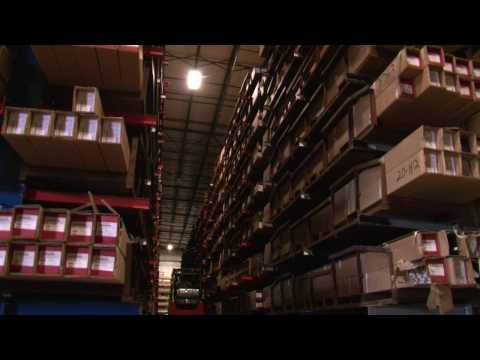 Links
http://www.c-sgroup.com/sustainable/overview
http://www.howards-blog.com
Disclaimer: This is a sponsored post by Construction Specialties (C/S), one of our partners.

There's no shortage of organizations out there, big or small, working to improve the conditions of our environment. In recent years, we've seen real advancements in climate change issues, many of which have been directly related to the built environment. Leading organizations such as the AIA, Architecture 2030, and USGBC have introduced innovative models aimed at encouraging greener building design and construction.
And while large scale initiatives have driven the green building movement here in North America and abroad, some issues have an easier time emerging as hot topics than others (think renewables). There's no doubt that advances in those areas will, in fact, have positive impacts on the built environment, but there is an emerging group of products, technologies, materials, and design principles that seems to be taking shape in a growing number of buildings scattered across the globe.
You might call it "Green Building 2.0". It's the next stage of green building where initial advances in the last few years of the green revolution start coming together in dynamic, intelligent systems that have far greater impact in their buildings than those of each system operating independently. It's where the individuals who occupy those buildings have a relationship with the environment around them; where parts of the building think, move, react, and adapt to real time conditions.
What if you could design a building that, at any given time, was optimized for the environmental conditions around it? What if that building meant more satisfied tenants, a lower carbon footprint, and significant savings in capital and operating costs? And what if you could do so without compromising the aesthetics of your building's design, perhaps even enhancing it?
These possibilities are closer than ever to being fully realized, thanks to a select number of innovators making 'living buildings' a living reality.
Take solar shading and daylighting, for example. Traditionally, these existed as fixed systems bracketed in place on a building. Have a look at the video below, however, and you'll see some of the possibilities with dynamic, controllable systems that react to environmental conditions:
Okay – so a futuristic kinetic facade might be overkill for your building design. We thought we'd outline three firms – one product manufacturer, one designer, and one architect – that are integrating living solar shading technologies into existing buildings with great success.
Hoberman Associates and Adaptive Building Initiative
Founded: Hoberman Associates in 1990, Adaptive Building Initiative in 2008
Website: www.adaptivebuildings.com
Description: "A joint venture between Buro Happold and Hoberman Associates dedicated to designing a new generation of buildings that optimize their configuration in real time by responding to environmental changes."
Notable Projects: Hoberman designed an operable covering to accompany Foster + Partners' design for the Aldar Central Market in Abu Dhabi.
A system of rectangular cells opens and closes to regulate sunlight and solar gain, as well as block sand and dust from entering the open-air traditional Souk
Market.
Cool thinking from their website:
"Adaptation is essential for survival and success: This is as true for our buildings as it is for all other aspects of our lives…Today buildings represent the single largest contributor to carbon output in the United States; their owners and occupants pay the price in higher energy costs and reduced comfort and flexibility. Rising energy demands, along with the lack of design solutions that sufficiently respond to the changes in our environment, may well be the defining problems of our century. Adaptation is the means by which we can begin to address these daunting challenges and enter a new era of innovation."
With compelling but simple logic, "Buildings with adaptive systems use less energy, offer more occupant comfort, and feature better overall space efficiency than static buildings do…These technological advances allow us to create buildings that are self-optimizing, rather than merely best-fit compromises."
Behnisch Architekten
Founded: 1989
Website: http://www.behnisch.com/
Description: Behnisch is one of the leading architecture firms dealing with innovative solutions in daylighting, shading, facade technology and creating built environments, known for their "sensitivity to the culture and climate of place and the desire to bring a new quality of life to their users".
Notable projects: Unilever Haus, featured in last month's GreenSource, was recently named "Office Building of the Year" at the World Architecture Festival. Following the theme of intelligent buildings, Behnisch and team conceived an innovative system combining double skin facade technology, operable windows, and Warema controllable exterior venetian blinds on every elevation except the North (where shading is hardly needed).
Cool thinking: Behnisch and close collaborators Transsolar were recently featured in an exhibit at Toronto's MaRS Discovery District. The exhibit featured models of projects and interactive displays concerning the importance of light, shading, temperature and other building factors.  In addition, viewers could watch documentaries on iPads with thought leaders in each area. Of interest were Behnisch's thoughts on applying these principles to the existing building stock, an often overlooked opportunity in green building:
"…The most difficult stock we have to deal with, and it has to be done, if we really want to save CO2. We need to fix up about 60% of the existing buildings. The biggest challenge is not the historic buildings. The biggest challenge is 50s to 80s buildings. The mirror glass building across the street is one example. And these can be done well with new facades and technologies. The problem is less of a challenge than you think."
Construction Specialties & Solarmotion
Founded: 1948
Website: www.c-sgroup.com & www.dynamicshading.com
Description: The next generation of intelligent operable shading systems, ranging from exterior louver and fin systems to retractable external venetian blind systems.
Notable Project: C/S Operating Sun Controls were installed in 1997 over the gallery skylights of the J. Paul Getty Art Museum to provide filtered sunlight to each of the galleries and to prevent the sun's UV rays from damaging valuable artwork.
Cool thinking:
Solarmotion dynamic facades are almost like a living part of the building and respond to the elements (wind, rain, sun, snow) providing optimal comfort.
Independent energy modeling on a 10-storey building in Dallas with Solarmotion intelligent shading showed a 21.1% reduction in the annual cooling energy demand (MWhrs) was achieved, translating into savings of $137,160 per annum on the building modeled.
From an architectural standpoint, one of the things we like best about Solarmotion technology is the design options for shading systems. Typically you'd see these systems as aluminum airfoils mounted to the building envelope. Solarmotion's blade options, including Red Cedar wood, aluminum airfoils, laminated glass, a variety of perforated aluminum blades, clear acrylic, and even LED options mean your shading system could take the same form as your building, or stand out as a prominent feature.
As buildings all over the world are responsible for a majority of the greenhouse gases emitted today, one of the easiest ways to reduce a building's energy usage post-construction is to take these adaptive and dynamic factors into consideration during pre-design. The technology is available, but it's up to stakeholders at each level – architects, designers, contractors, and product manufacturers to listen closely to drivers in the market and respond with innovative, relevant, and effective solutions.
Europe has been doing this for some time now and North America is just beginning to embrace it.  With the need for energy efficient buildings, including the existing building stock remaining one of the key solutions to addressing climate change, perhaps we can take a note from nature and learn how living, intelligent, dynamic systems can help the built environment adapt to the conditions around it. The market leaders mentioned above are seeing the future of intelligent buildings and designing solutions that work. Are you?
Let us know in the comments if you have been involved in a building with intelligent shading, facade, or building envelope technology. Do you work or live in such a building? Are you working on a cool technology or have you used one in a previous design? We want to hear about it!

Disclaimer: This is a sponsored post by Construction Specialties (C/S), one of our partners.
For more than 80 years, plastics have been improving the performance and durability of nearly everything we buy, and build, with their remarkable properties. Take, for example, this video we dug up on YouTube. Disney's "Monsanto House of the Future" featuring "plastics used boldly, creatively as building materials."
It was just 50 years ago we were idealizing about a world full of plastic, as pointed out in the video:
"Is everything plastic?", the narrator asks. "Almost! Dishes, cups, counter tops, walls, floors, ceilings, tabletops, shelves and cabinets. Plastics in all their colorful, functional, and beautiful versatility have transformed their work area, stepped it years ahead."
And, in his book Maps to Anywhere, Bernard Cooper explains the allure of that seemingly magical world of plastics:
"It was the permanence, the durability of plastic that made the Monsanto house a marvel. The wings, it was said, would never sag. The plastic floor would never buckle, chip, or crack. At the time, 30 percent of Monsanto's business was in plastics, synthetic resins, and surface coatings." (hat tip to Lloyd Alter at Treehugger)
Some of that video was, in fact, accurate. Today it is hard to imagine a world without plastics! In the ideal world portrayed in the video, however, no one seems to pick up on the price that we would eventually pay. We're beginning to see these consequences more and more; in the press, blogosphere and, of most concern, in our natural environment and human bodies. The idea of "better living through chemistry" failed to take into account the harmful effects those very chemicals would later have on our health.
You may remember this Time Magazine article published in April, "The Peril of Plastics". With plastics everywhere, including the controversial BPA (a synthetic estrogen), Time states "if you don't have it [BPA] in your body, you're not living in the modern world". Was this the modern world (the 'future') that the Monsanto house envisioned?
And so, in hindsight, perhaps we should have explored alternatives. Somewhere along the line, though, we parted ways with nature, favoring the path to a manufactured future – one with indestructible materials, even after we would decide we had no use for those materials any longer.
But where has industry been in the return to nature? Just as the video states, "a revolution has quietly been taking place in homes", we now need a revolution to explore the future of plastics as a sustainable building material – only this time, maybe we shouldn't be so quiet.
That's why we're happy to see companies like Interface, Steelcase, Herman Miller, and Construction Specialties (C/S) stepping up to the plate. Led by leading green thinkers like William McDonough, of MBDC and founder of the Cradle to Cradle design process, these companies are leading the way into a world that is truly better, not just less bad (as seen with so many green marketing efforts). Unfortunately this revolution won't happen with just a quick fix.
At the recent AIA 2010 Convention in Miami (appropriately themed "Design for the New Decade"), we had the opportunity to catch up with Construction Specialties and learn a little more about its new line of interior wall protection products. You've likely seen Acrovyn before (see images below) – it's in tens of thousands of hospitals, airports, and schools in North America. It's one product you might not think about as you walk through those places – but there's a lot to C/S' story of how their latest product line, called Acrovyn 4000, is ahead of the pack when it comes to sustainability.
Here's some of what C/S has accomplished, with some serious research, development, engineering, and sustainable chemistry work, to bring the Acrovyn product to where it is today:
Eliminated Persistent Bioaccumulative Toxins (PBTs) from all products
Completely removed PVC & BPA
Earned Cradle to Cradle: Silver Certification
Meets California 01350 protocol for good indoor air quality
Improved color match, texture, gloss and cleanability based on extensive market research
On top of that, we couldn't help but be impressed by C/S' involvement in big picture efforts to change the industry altogether. This past April, there was a Senate Hearing on reforming U.S. chemical safety laws that called for industry leaders to testify with their thoughts on the matter. Construction Specialties' Vice President, Howard Williams, spoke at that hearing, and has continued to be a voice for change with respect to a reformed Toxic Substances and Chemicals Act (TSCA), calling for increased transparency, regulation, and third party involvement in verifying environmental, safety, and chemical claims made by industry. You can watch the webcast of that speech here (watch for Howard at the 34:00 mark). Here's a good excerpt:
"Reform should include making the data available, identifying chemicals of concern, and promoting safer alternatives through Green Chemistry – reform in ways that reduce causation, improve life, and lower healthcare costs. You and the buildings industry, through existing and emerging standards, have an opportunity to protect millions from building-related PBT exposure, while accelerating product innovation, job creation and economic growth."
As members of the architectural community, we've got to keep in mind that it is these products, when used as part of smarter building designs, which can help the building industry get back on track with nature. This is our responsibility. There's still a long way to go, but, by selecting the right products and working with product manufacturers to better the materials we put in our buildings, we can get there. Perhaps this will enable us to build a new version of the 'house of the future' – one that embraces nature, exemplifies safer buildings and, of course, promotes a healthier people and planet.
Looking for more ways to help? We hope that you'll join Construction Specialties and the growing number of people and companies leading the charge on chemical reform. For more information, visit this link.
Disclaimer: This is a sponsored post by Construction Specialties (C/S), one of our partners.