115 entries from 39 countries! This was the number of architectural and design students who entered this year's international concept competition – the Troldtekt Award 2014. The EUR 5,000 prize was won by three students from Escuela Superior de Arquitectura in Guadalajara (Mexico) for their project Troldtekt Raw. The jury was so impressed with the overall quality of the entries that three special prizes were also awarded, while a further four projects received honourable mentions.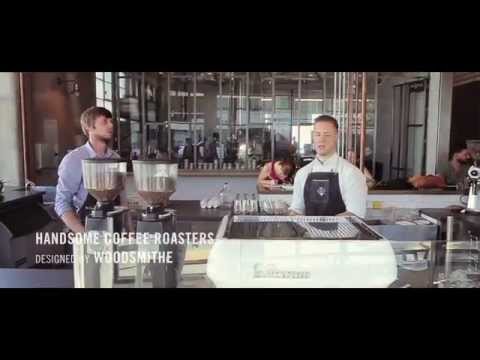 Before starting down the arduous path of the life of a designer, those who have been there before you will insist on one thing: you must be passionate about what you do. Music brought Nathanael Balon to California, where he ended touring with his neighbor Sonny Moore (you probably know him as Skrillex). But 40 days into his second world tour he woke up wishing he were doing something else. Nathanael dreamed of building.
His desire to "build beautiful things" culminated in the creation of WoodSmithe, a company that designs and constructs retail environments, window displays and trade-show booths. Get a glimpse into Nathanael's courageous move in the short video above and read on to find out about a group of people who have made bold decisions to follow their dreams.
Summer DLAB experiments with the integration of algorithmic / generative design methodologies and large scale digital fabrication tools. Continuing its color based agenda, Summer DLAB immerses in 'white' for its 2014 cycle, as a starting point to investigate natural formation processes and interpret them as innovative architectonic spaces. 'White' becomes the means of looking into extreme natural conditions which it is associated with. Concepts of emergence, differentiation, and complexity shape the theoretical framework of this investigation. Natural structures of differing scales are observed, which are then abstracted and interpreted into elaborated design proposals. The computational process of Summer DLAB is based on generative design algorithms, as can be seen in natural growth patterns such as the Lindenmayer system and fractal theory. These concepts are carefully interwoven with interaction and participatory design in order to create full-scale working prototypes.
One of the major objectives of Summer DLAB is to demonstrate the continuity of the workflow between computational software and digital assembly procedures leading to physical fabrication. In this respect, the programme is formulated as a two-phase process. During the initial phase participants benefit from the unique atmosphere and facilities of AA's London home. The second phase shifts to AA Hooke Park campus and revolves around the fabrication and assembly of a full-scale architectural intervention which unifies the design goals of Summer DLAB.
AA Greece Visiting School is a mobile workshop series which travels and reaches cities outside the country's capital. It functions as a 'satellite' of education that promotes the Architectural Association's exclusive, intensive form of teaching and learning around the country. AA Greece VS aims on visiting a different city each year and construct a single large-scale model which will act as an active nod of communication among the various locations. In 2014, the School will initiate its design agenda with an architectural approach that is focused on the aspect of connection. The city of Patras which is the starting node of AA Greece VS was chosen by the European Commission to be the European Capital of Culture for the year 2006. The concept of the event revolved around the main theme of "Bridges" and "Dialogues", drawing benefit from the city's rich history and its position as a "Gate to the West", to underline the essence of the productive interaction of culture and civilizations in Europe. The AA Greece Visiting School will investigate how well existing buildings with various sightlines and variant spatial grammars perform according to human perception. In sync with the flexible and adaptive concept of parasitical structures, the research focuses on the making of transformable large-scale creations that accentuate prominent architectural features of existing buildings. The research looks at how cultural factors, personal preferences, experiences, and expectations can lead to the transformation of architectural parasitical structures.
JeanNouvelDesign, the studio led by French architect Jean Nouvel, presented their new collection of furniture during Paris Design Week. Among them is the Oxymore chair, designed by JeanNouvelDesign and produced by specialty group-seating manufacturer Figueras International Seating. This fetishistic chair, a result of research conducted at the Figueras Design Centre, has a singular cubic appearance that provides extreme comfort, softness. It is precisely this unapparent relationship between look and feeling that gives the seat its name—since an oxymoron means a union of contradictory elements.
The Toni-Areal is a crucial part of the plan to breathe new life into Zürich West. The building was formerly a milk processing facility, and the new design by architecture firm EM2N features spaces for cultural events, as well as the Zürich University of the Arts and two departments of the Zürich University of Applied Sciences.
The Toni-Areal is one of the largest construction projects ever undertaken in Zürich and will be the largest construction site in Switzerland during its realization phase. The total usable floor space is 108,500 m2, of which the colleges comprise 84,500 m2. The remaining 23,500 m2 are dedicated to housing, cultural events, restaurants, and small retail shops, as well as parking and technology. The construction price—including basic upgrades and tenant upgrades—amounts to about 350 million Swiss francs.
Sponsored by Nemetschek Vectorworks, Inc.
Award-winning architectural firm Arca Architects is based in central Manchester, England, and headed by architect John Lee. Arca's Silver Café on the Morecambe Bay in England transformed the face of a quiet seaside town with a space that is both visually appealing and tactilely exciting.
The Silver Café won the 2009 Small Scale Commercial Award from the Manchester Society of Architects (MSA), and it was a finalist for two coveted Young Architect of the Year Awards in 2000.
Sponsored by Nemetschek Vectorworks, Inc.
Experts from all continents will meet in Mumbai at the 4th International Holcim Forum for Sustainable Construction – April 11-13, 2013. The conference for academics and professionals from architecture, civil engineering, urban planning, natural and social sciences will advance concepts on how construction needs to be re-invented and aligned with principles of sustainable development.
The focus of the three-day conference will be on the ongoing economic challenges in many parts of the industrialized world driving a paradigm shift. Governments, companies and individuals are all becoming aware that although sustainable development incurs costs, it also offers considerable economic potential. The Holcim Forum includes workshops and site visits and will be hosted by the Indian Institute of Technology (IIT Bombay), and chaired by architect Mohsen Mostafavi, Dean of the Graduate School of Design, Harvard University, USA, together with co-chair, engineer Battula K. Chakravarthy, IIT Bombay.
Sponsored by Holcim Foundation
Architects: C Arquitectos
Location: México D.F., México
Architect in Charge: René Caro
Project Year: 2011
Photographs: Onnis Luque
Architects: JSª
Location: Mexico City, Mexico
Architect In Charge: Javier Sánchez
Design Team: Arquitectura 911 sc, Jose Castillo, Saidee Springall Juan Manuel Soler, Juvencio Nuñez, Pablo Zamudio, Edgar González, Gabriela Delgado, Gustavo Rojas, Domingo Granados, Mariana Paz, Jimena Antillón, Edith Razo
Project Year: 2012
Photographs: Rafael Gamo , Pedro Hiriat
Before even stepping out of the car, residents of the Porsche Design Tower will experience extravagant luxury. It features a one-of-a-kind robotic parking system that allows owners to park their vehicles in sky garages directly next to their units. Miami, Florida based Archiform 3D used ArchiCAD to initially create the tower from the architect's sketches. They shaped the building and its features in cooperation with Porsche to pursue and receive initial city approvals.
Architects: Duch-Pizá Arquitectos
Location: Palma, Spain
Main Collaborator: Claudio Hernández
Technical Architect: Oscar Menendez
Collaborators: G. Riveron, P. Skytta
Project Year: 2010
Photographs: Courtesy of Duch-Pizá Arquitectos
Architects: Duch Pizá Arquitectos + Iciar De Basterrechea
Location: Secar de la Real, Palma, Baleares Island, Spain
Architects: Duch Pizá arquitectos, Iciar De Basterrechea
Design Team : Gimena Riveron, Teresa Garau
Project Year: 2011
Photographs: Jaime Sicilia
Architects: Abis Arquitectura
Location: Sierra Dorada, Benidorm, Alicante, Spain
Architects: Ángel Benigno González Avilés, Mª Isabel Pérez Millán
Design Team: Emilio Cortés Saura
Project Year: 2010
Photographs: Toni Elvar, Vicente Martinez