The Toni-Areal is a crucial part of the plan to breathe new life into Zürich West. The building was formerly a milk processing facility, and the new design by architecture firm EM2N features spaces for cultural events, as well as the Zürich University of the Arts and two departments of the Zürich University of Applied Sciences.
The Toni-Areal is one of the largest construction projects ever undertaken in Zürich and will be the largest construction site in Switzerland during its realization phase. The total usable floor space is 108,500 m2, of which the colleges comprise 84,500 m2. The remaining 23,500 m2 are dedicated to housing, cultural events, restaurants, and small retail shops, as well as parking and technology. The construction price—including basic upgrades and tenant upgrades—amounts to about 350 million Swiss francs.
Sponsored by Nemetschek Vectorworks, Inc.
Award-winning architectural firm Arca Architects is based in central Manchester, England, and headed by architect John Lee. Arca's Silver Café on the Morecambe Bay in England transformed the face of a quiet seaside town with a space that is both visually appealing and tactilely exciting.
The Silver Café won the 2009 Small Scale Commercial Award from the Manchester Society of Architects (MSA), and it was a finalist for two coveted Young Architect of the Year Awards in 2000.
Sponsored by Nemetschek Vectorworks, Inc.
Experts from all continents will meet in Mumbai at the 4th International Holcim Forum for Sustainable Construction – April 11-13, 2013. The conference for academics and professionals from architecture, civil engineering, urban planning, natural and social sciences will advance concepts on how construction needs to be re-invented and aligned with principles of sustainable development.
The focus of the three-day conference will be on the ongoing economic challenges in many parts of the industrialized world driving a paradigm shift. Governments, companies and individuals are all becoming aware that although sustainable development incurs costs, it also offers considerable economic potential. The Holcim Forum includes workshops and site visits and will be hosted by the Indian Institute of Technology (IIT Bombay), and chaired by architect Mohsen Mostafavi, Dean of the Graduate School of Design, Harvard University, USA, together with co-chair, engineer Battula K. Chakravarthy, IIT Bombay.
Sponsored by Holcim Foundation
Architects: C Arquitectos
Location: México D.F., México
Architect in Charge: René Caro
Project Year: 2011
Photographs: Onnis Luque
Architects: JSª
Location: Mexico City, Mexico
Architect In Charge: Javier Sánchez
Design Team: Arquitectura 911 sc, Jose Castillo, Saidee Springall Juan Manuel Soler, Juvencio Nuñez, Pablo Zamudio, Edgar González, Gabriela Delgado, Gustavo Rojas, Domingo Granados, Mariana Paz, Jimena Antillón, Edith Razo
Project Year: 2012
Photographs: Rafael Gamo , Pedro Hiriat
Before even stepping out of the car, residents of the Porsche Design Tower will experience extravagant luxury. It features a one-of-a-kind robotic parking system that allows owners to park their vehicles in sky garages directly next to their units. Miami, Florida based Archiform 3D used ArchiCAD to initially create the tower from the architect's sketches. They shaped the building and its features in cooperation with Porsche to pursue and receive initial city approvals.
Architects: Duch-Pizá Arquitectos
Location: Palma, Spain
Main Collaborator: Claudio Hernández
Technical Architect: Oscar Menendez
Collaborators: G. Riveron, P. Skytta
Project Year: 2010
Photographs: Courtesy of Duch-Pizá Arquitectos
Architects: Duch Pizá Arquitectos + Iciar De Basterrechea
Location: Secar de la Real, Palma, Baleares Island, Spain
Architects: Duch Pizá arquitectos, Iciar De Basterrechea
Design Team : Gimena Riveron, Teresa Garau
Project Year: 2011
Photographs: Jaime Sicilia
Architects: Abis Arquitectura
Location: Sierra Dorada, Benidorm, Alicante, Spain
Architects: Ángel Benigno González Avilés, Mª Isabel Pérez Millán
Design Team: Emilio Cortés Saura
Project Year: 2010
Photographs: Toni Elvar, Vicente Martinez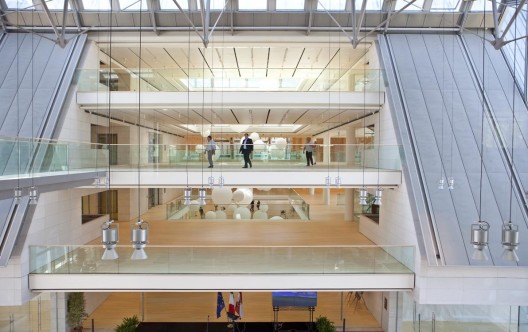 Architects: Renzo Piano Building Workshop
Location: Trento, Italy
Architect: Renzo Piano
Project Year: 2012
Photographs: Courtesy of RPBW, RPBW – Stefano Goldberg, RPBW – Paolo Pelanda, Colombo Costruzioni – Alessandro Gadutti, RPBW – Cristiano Zaccaria
Architects: Pich-Aguilera Architects
Location: Ametlla de Mar, Spain
Architects: Felipe Pich-Aguilera Baurier, Teresa Batlle Pagés
Project Team: Angel Sendarrubias, Xavier Milanés, Pau Casaldaliga
Project Manager: Iván Acevedo
Project Year: 2010
Photographs: Simón García
Architects: Estudio BaBO
Location: Villa La Angostura, Neuquén Province, Argentina
Project Architects: Francisco Kocourek, Francesc Planas Penadés, Marit Haugen Stabell
Design Team: Marcos Buceta
Project Year: 2011
Photographs: Courtesy of Estudio BaBO
Architects: Grant Associates
Location: Singapore
Project Year: 2012
Photographs: Courtesy of Grant Associates