Architects: Kevin deFreitas Architects
Location: San Diego, CA, USA
Builder: Kevin & Kara deFreitas
Interiors: Kevin & Kara deFreitas
Landscape Architect: Aerea, Leslie Ryan
Structural Engineer: Envision Engineering, Alex Barajas
Site Area: 9,178 sq ft
Project Area: 3,460 sq ft
Project Year: 2007
Photographs: David Harrison Photographic & Glenn Cormier
A reinterpretation of quintessential Southern Californian courtyard houses; this is a modestly sized home that lives much bigger than it really is by thoughtfully opening up to, and engaging, the landscape and wonderfully temperate So. Cal coastal climate. It is a home that simultaneously looking towards the future (technologically feature rich), while remembering the low tech comfort strategies of the past; a time before air conditioning and forced air units existed.
The goal of this project was to design and construct a highly efficient home that would employ passive and active strategies to significantly reduce, energy, water, and resource consumption all while delivering a modern, comfortable and livable home for a young family of six.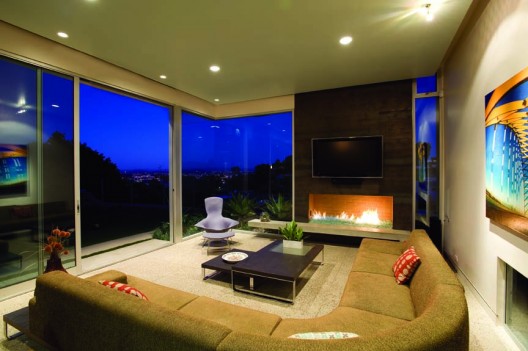 Through concerted research, experimentation and a good measure of faith, the house proved a success consuming 65% less electricity than state mandated standards and 55% less water than homes of comparable size without sacrificing comfort or aesthetics. This is important to dispel the common public misperception that efficiency and conservation has to look "hippie" or alternative.
Like the song says, "it not easy being green", but it likewise it's not difficult either, and the ramifications for future generations are enormous.
Products in this project
Plumbing Fixtures

by Toto
Building Wrap & Flashing: Dupont Tyvek

by DuPont

Countertops: Zodiac

by DuPont

Countertops: Corian

by DuPont

Insulation: Spider

by Johns Manville Inc.
Exterior Deck Coatings

by Westcoat Specialty Coating Systems
Solar Hot Water: VitoSol 100

by Viessmann
Doors

by Fleetwood Windows & Doors

Door Handles

by Omnia Industries

Bi-Fold Garage Door: Schweiss Bi-Fold door

by Schweiss

Windows

by Fleetwood Windows & Doors

Closet Doors

by The Sliding Door Company
Solar PV-Electric

by Kyocera Solar

Home Automation

by Control 4
Radiant Barrier: Lo/MIT radiant paint

by SOLEC-Solar Energy Corp

Glass Tile

by Oceanside Glass Tile