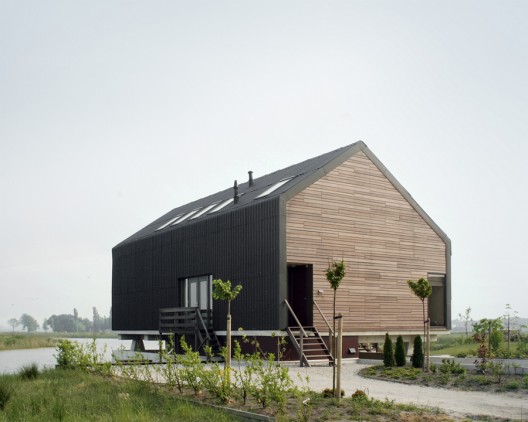 A nice house with a steel skin. You can also see it on 3D over Google Maps.
Architect: Jager Janssen architecten BNA
Design team: Alex Jager, Rogier Janssen, Sanne Braakenburg
Location: Blauwestad, Netherlands
Client: Michel Dijk & Karin Berrelkamp
Gross area: 318 sqm (incl. souterrain)
Completion: July 2007
Consultants: Solke Abbring (installations)
Contractor: Marcel van der Sluis
Photography: Rob de Jong/SAPh, Michiel en karin Dijk

House Dijk – Make Room!
The facades and the roof of this dwelling comprise one entity. The skin, consisting of anthracite-coloured corrugated sheets, is open in strategic places in order to let the environment in. Maximizing this effect, the entire dwelling is positioned one meter above ground level, resulting on a spacious lower ground floor.
The exterior of the dwelling looks rather solid and closed. The interior experience is one of beautiful spatial impressions.
A smart system based on just a few composition rules creates a seemingly irregular pattern of wooden boards.