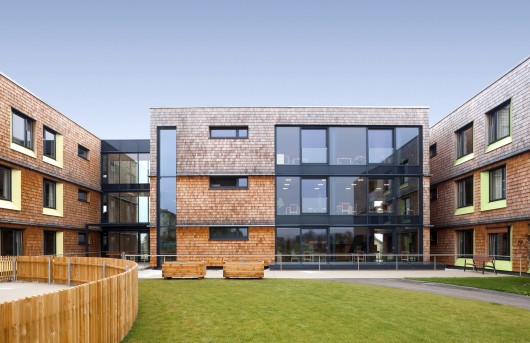 Architects: Gärtner+Neururer
Location: Gaspoltshofen, Austria
Year: 2011
Photographs: Andrew Phelps, Klaus Costadedoi
From the architect. This home for the elderly is situated in a small upper austrian village. The building volume is split in three bodys, to adapt to the adjoining appartment buildings. The entrance and the living areas are facing the center of the village and the church. The core of the building, including the main circulation and the hallways are a concrete construction, while the rooms are made out of prefabricated wooden elements with a wood shingle facade.
Located on the groundfloor are the public and service functions, while the rooms are split up in three groups of dwellings in the storeys above. The living areas and the nursing service areas function as a connecting element between the nursing wards.
* Location to be used only as a reference. It could indicate city/country but not exact address.