"I have always harbored the naïve idea that architecture brings people together – that its effects, however dependent on special expertise, move us in direct and elemental ways. The anxious crowds from the film Independence Day, like speakers of Esperanto, share a hope of solidarity beyond parochial or national interests in the face of an overwhelming alien presence. However clichéd this 'Family of Man' scenario is, it never ceases to fascinate; for it becomes clear that architecture, especially good architecture, is, like the aliens– alien. Indeed it is otherness, indifference as opposed to any humanist impulse, that illuminates something universally shared and felt, which paradoxically is more fully human than those 'humane' projects delivered with the best of intentions."
This paragraph, by Jesse Reiser of Reiser + Umemoto, is the first of an excerpt from O-14 Projection & Reception (AA Publications 2012). Through exhaustive documentation of O-14′s design and construction, the book delves into the complex interrelationships between technology, expression and politics in the context of the 'nowhere place' of the global city. Both an account of a design's realization and a manifesto, Projection & Reception contains Jesse Reiser's explanatory and theoretical texts on the tower as well as critical essays by Brette Steele, Sanford Kwinter, Sylvia Lavin and Jeffrey Kipnis. Read the rest of the chapter "Independence Day" from O-14: Projection & Reception after the break…
Beyond the obvious fact that O-14 is now built and definitively out of our control – its being 'out there' arose early on and became a central preoccupation and eventual reality of the work itself. The circumstances of its design pulled us in this direction from the very start. O-14 is not a local project – all transactions with the client and builders had to be made remotely: the design team, specialists and various subcontractors were even more far-flung. Finally, Dubai could be seen as one of the least 'at home' places on the planet. Everyone, including the natives, is learning to navigate in a 'new nowhere' where the forces of estrangement render local dress as authentic as costumes out of Central Casting. For as the tired expression goes, Dubai is truly a work in progress.
Its rise from tabula rasa, although materially 'in your face', is at the same time insistently abstract– the rush to build out of the void led to very lightly considered importations deployed in a wholesale way. In fact, the imperative to develop 'fast and dirty', mainly through foreign consultants with long histories in the region, led to a majority of proposals redolent of expatriate sensibilities –colonial forms of nowhere: unholy compounds of corporate authenticity and all species of architectural homecoming.
To be sure, our design had to come to terms with operating in the middle of nowhere (and with nowhere); but how? Modernism bequeathed us a robust international type, historical incorporations from the 1950s and 1960s encouraged still more and finally postmodernism and its far more numerous and vulgar antecedents – identified by Koolhaas as 'sub-post' – colours most of what goes up in Dubai and in many other non-places elsewhere. Rather than shrink from the task at hand, we embraced the radically abstract terrain of nowhere and its artificiality as positive parameters; the only grounds which seemed tolerable and the only clear way to wrestle with some incarnation of the universal. Architects, as opposed to theorists, have the advantage that their work includes how they speculate on it. In other words, an architect doesn't just preconceive a project and execute it. There is something implicit in design itself that feeds back into the way one considers and contextualizes each project and finally the overall project of being an architect.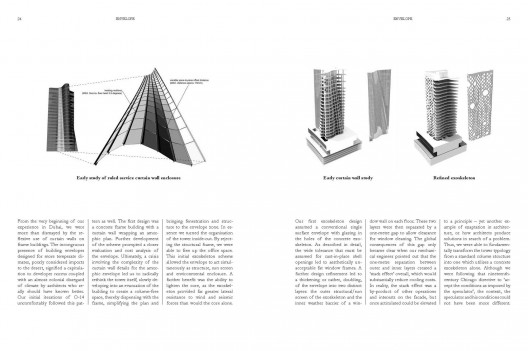 Contents
- 'Why We Get the Truths We Deserve'
- Independence Day
- Dubai
- Ubiquity
- Envelope
- Chicago Frame Dubai Shell
- Comedic Typology
- Aura
- Mass Camouflage
- Glazing
- The Office
- Geometry's Rainbow
- Architecture as Inversion: RUR's O-14 or, Ten Towers I Am Not by Brett Steele
- Holes
- Notes on the Synthesis of (a) Form: O-14 by Sanford Kwinter
- Friction
- What's in a Hole? by Sylvia Lavin
- New Vectors of Expression
- Location Location Location: Or For Whom They Built Holes by Jeffrey Kipnis
- Architecture's Great Unconscious
- The Atectonic
- Paint
- Portfolio