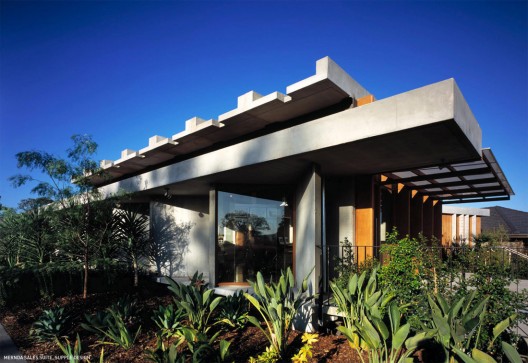 Architect: Supple Design / Eoghan Lewis
Location: Mernda, Victoria, Australia
Client: Stockland Property Trust
Structural consultant: HKMA—Phil Mance
Site area: 850 sqm
Floor area: 130 sqm
Design year: 2006
Construction year: 2007
Photographs: Shannon McGrath, Eoghan Lewis
This project is a development of the precast concrete construction system we developed for the Macarthur Gardens Education and Display Suite in NSW. Like its predecessor, this building is temporary, moveable & re-erectable.
The challenge was to adapt the system to a quite different context (temperature range, orientation, prevailing winds), accommodate new requirements whilst developing and testing the system's robustness and adaptability. So far so good!