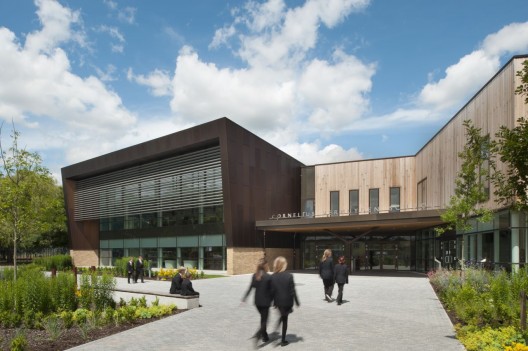 Architects: Nicholas Hare Architects
Location: Canvey Island, England
Main Contractor: Skanska
Structural Engineers: Arup
Planning: Collins Coward
Landscape: Grant Associates
Area: 8,061 sqm
Year: 2012
Photographs: Jim Stephenson
Cornelius Vermuyden School is a co-educational school for 900 students aged 11-16 located on a flat, open site on Canvey Island.
The school is predominantly new-build, but an existing hall has been incorporated and reinvented as a centre for design technology and art. A central 'gallery' links the teaching clusters, sports hall, and LRC, widening locally to create generous spaces for the entrance hall, dining and the display of artwork. Rich external environments for recreation and learning are formed between the wings. A restrained yet robust palette of external materials includes yellow stock brick, perforated bronze-anodized aluminium and untreated timber.
The Headteacher's aspiration was for a school that would be inclusive, welcoming and academically ambitious in a particularly deprived part of the country. The design was to reflect and support the school's visual arts specialism while providing a variety of exceptional environments for learning and teaching, both within the building and in the grounds. The new building was also required to be a catalyst for community involvement and cohesion, offering opportunities for local people both in terms of extended learning and recreation (sports, exhibitions etc.)
* Location to be used only as a reference. It could indicate city/country but not exact address.