Architects: Semrén & Månsson AB
Location: Gullbergsvass, Gothenburg, Sweden
Area: 10,600.0 sqm
Year: 2012
Photographs: Krister Engström
In December 2012 Semrén & Månsson and ByggGöta received the Per & Alma Olssons award for successfully renovating the well-known building Pagoden in Gothenburg. After many years of being empty and abandoned, the building has now been given a new life. By an almost surgical intervention, the dark core has been transformed into a new, light, multiple story atria. This forms an open connection in the building and solves the problem of the large dimensions. "To be awarded one of the finest regional prizes for the third time make us both happy and proud, "says Magnus Månsson, CEO. "For us it is a clear proof that our philosophy – a holistic approach – really works."
Pagoden was originally built to house the tobacco warehouse and offices for the Tobaksmonopolet (The Swedish Tobacco Monopoly) at the Gothenburg high seas harbour. The architect Cyriluss Johansson has designed the property with a monumental appearance associated with public buildings. The characteristic shape quickly made it an important landmark in the city. The massive brick façade, windows with tapered proportions and the curved copper roof are inspired by Far Eastern buildings; a popular source of inspiration in architecture during the 1920's, the Grace period in Sweden. Behind the facades lies a fully function-driven rational framework which designed by chief engineer TA Beyer (AB Industribyrån ) with slab and columns in concrete, visible in the top-floor as exposed pillars supporting the large eaves.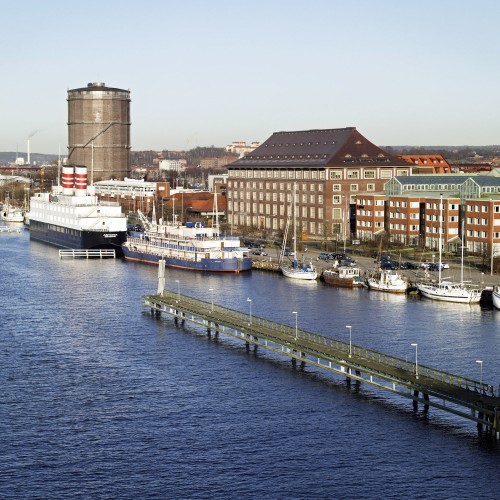 Within the limits of the historical and antiquarian prerequisites an open, bright and contemporary office space has been created. A new multiple story atria and a brick moucharabieh, with open selected parts on a previously closed façade, flooding the interiors with daylight and bringing new life into the office spaces. Carefully added windows on the other three facades and new glazed dormers piercing the Copper roof further contribute to make the property attractive to tenants. The building comprises in to two floors underground, housing the parking spaces, and seven floors above and an additional two floors tucked under the large roof. The success of the project has triggered a transformation of the neighborhood, which is destined to become a strategic location in the new emerging Gothenburg. Current tenant includes the headquarters of Havs- och Vattenmyndigheten (Swedish Agency for Marine and Water Management).
* Location to be used only as a reference. It could indicate city/country but not exact address.