Despite petitions and pending lawsuits, the St. Petersburg City Council declared last night that Michael Maltzan Architecture's $50 million re-design of the city pier will go on.
The project, known as "The Lens," has hit speed-bumps due to local dissidents, who have been vocally wary of the new Pier's price-tag/design and have called for a voter referendum. However, the architects have been sensitive to the process; since first winning the competition in January (beating out BIG and West 8), the firm has taken part in local workshops to get community input, making some significant changes to the original design.
After receiving local criticism that the Pier include more things "to do" and more shading, the firm has adjusted the design to include two restaurants, shaded balconies, and – in order to improve access – a road that can support service vehicles and a tram. Most noticeably, the plan for an underwater reef garden, the signature feature which gave the project its name, has had to be scratched: scientists have determined that a reef garden would be unrealistic with Tampa Bay's dark water.
Last night's 7-1 vote determined that the project will now receive funding in smaller, pre-approved increments in order to safeguard against potential legal complications. However, no mater the outcome, the closure and the demolition of the current Pier will take place between May and August 2013; if all goes to plan for Michael Maltzan Architecture, "The Lens" will open in summer 2015.
See updated Renderings for "The Lens," and a really cool video, after the break…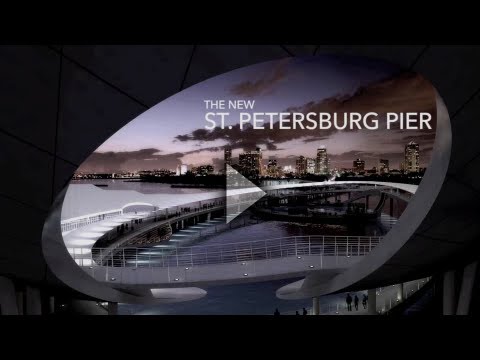 The Architects' description: Like a magnifying glass on the water, the Pier is a lens back to the city, and a window into the underwater world beneath.  Twin bridges extend out and back, no longer unidirectional, but instead a circuit, allowing for a diversity of experience reflecting a more reciprocal relationship between the Pier and the surrounding waterfront.
This is a new space for collective experiences for individuals, families, and the residents of St. Pete to gather, to play, and to celebrate.  Water is the icon, a vast amenity that defines the city in many ways.  The Pier provides a host of both powerful and nuanced ways to experience the bay – its particular light, atmosphere, horizon, its nautical sociability, its renewed underwater life, an aquatic perspective on the city itself.
As its canopy rises over the Bay, the Lens incorporates bicycle and walking paths arcing upwards before returning to the water's edge. Its broad form shelters the main promenade from the hot sun and the rain, welcoming visitors as they arrive on foot, on bicycle, or via the Pier Tram. Elevators and stairs bring visitors up to a series of viewing decks with unprecedented views of the city skyline in the distance.