Architects: S&F
Location: Condeixa-A-Nova, Portugal
Project Team: Jose Oliveira, Vesna Karamehmedovic
Area: 863 sqm
Year: 2008
Photographs: FG + SG
Condeixa is a Portuguese town, known for the Roman settlement of Conimbriga that includes well-preserved ruins. It is located 15 km south of the ancient university town of Coimbra.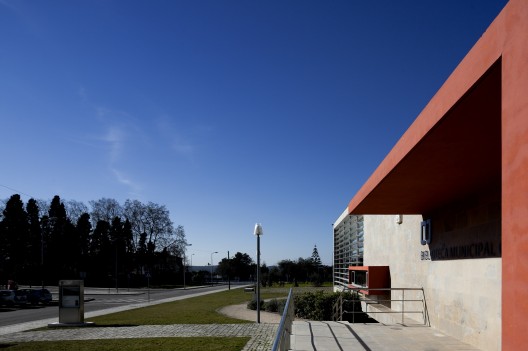 The Condeixa Municipal Library is a recent project, owned and operated by the Municipal Authority. It is situated in a public facilities zone, where schools, sports fields and parks are also established.
This building, designed on a single floor, comprises two parallel, long volumes raised from the ground, flowing through an internal distribution corridor. The importance of each of the volumes is given by its size, and by its finishing: stone in the volume for the public, and painted plaster in the service volume. Wide steps and a gentle ramp lead to the platform of the public entrance to library, forming a sculptural set that helps define the main façade of the building.
The design is based on clear and functional distribution, allowing the library to be understood by its users.
Spatial hierarchy is also enhanced by the different scales used in windows, marking the different characteristics of the spaces of adults, children, and services. The first clearly looks over the surrounding green space, offering generous south openings that are efficiently controlled by a metallic brise-soleil. To avoid the aggressive west sunlight, the remaining spaces have modest windows. A natural lighting system, crossing the roof in the form of conical skylights, complements the more traditional forms of lighting, marking the most important spaces of the building with light sets that vary throughout the day.