Architects: Burdifilek
Location: New York, United States
Project Team: Diego Burdi, Paul Filek, Jeremy Mendonca, Jacky Kwong, Daniel Mei, Edwim Reyes, Anna Nomerovsky, Anthony Tey, Daniela Cerchie, Tom Yip; Callison Architecture, Inc.: David Curtis
Design Team: Joe Fresh Design Studio
Area: 17,783 sq ft
Year: 2012
Photographs: Ben Rahn A-Frame
Design Firm: Diego Burdi, Creative Partner; and Paul Filek, Managing Partner
Consulting Architect: Callison
Base Building Architect: Skidmore, Owings & Merrill LLP
General Contractor: Richter Ratner
Engineer: Highland Associates
Lighting Consultant: Lighting Workshop
Joe Fresh, Canada's stylish and affordable brand of clothing and accessories has recently opened a 14,000 s.f.flagshipstore in New York's historic "Crystal Lantern" bank branch by Skidmore, Owings and Merrill—a landmark and a modernistmasterpiece. At the corner of 5th Avenue and 43rd Street, the building is wrapped with 27-foot high glass windows thatshowcase the interior and channel views upwards towards a floating, white terrazzo mezzanine and a glowing ceiling thatcreate the impression of weightless architecture. These elements are embellished by an original 70' long gilded screen andwhimsical hanging 'cloud' mobile, both by modernist sculptor and furniture designer, Harry Bertoia and interior design byBurdifilek.
In contrast with other mass-market fashion retailer concepts, the store interior embraces its architectural bones and opens to its surroundings. According to Interior Designer and Burdifilek Creative Partner, Diego Burdi (who with his partner Paul Filekhas designed Joe Fresh stores since the brand was launched five years ago.) "We kept the store open to the spectacular viewswhich we regard as a moving wallpaper of New York City. The store is airy, colourful, urban and ever changing, underscoringwhat Joe Fresh is all about."
To protect the historic features of the building, none of the shop fittings were drilled into the floor, walls or ceiling. Instead,free-floating, sculptural merchandising systems compliment the lightness of the host building. These custom-designedwardrobes can be easily arranged and reconfigured by Joe Fresh's merchandising team into vignettes to separate collectionsand to break down the space as desired. Each vignette composes a different 'colour story' of Joe Fresh's clothing andaccessories. The wardrobes are crafted from white, powder-coated metal with sandblasted Lexan panels to transmit light.Incorporating seamless monitors, mirrors or backlit billboards, they are radiant and dynamic, and along with a few selectnumber of glowing light boxes in Joe Fresh's signature orange and video screens displaying contemporary art videos or runway shows, they contribute to the liveliness of the store and help the merchandise to glow.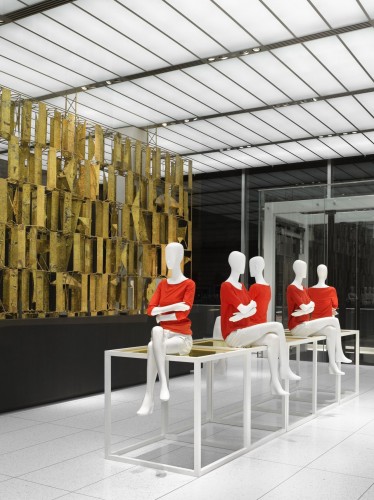 Echoing Joe Fresh's approach to fashion, Burdifilek paid careful attention to detailing and proportion, crafting the shopfittings from simple yet noble materials—but always with a contemporary twist. For example, the display tables are powdercoatedaluminum 'Parsons tables' with 'benches' and white polycarbonate merchandising cubes are poured from woodmolds so that they have the texture of wood grain and the appearance of porcelain. According to Burdi, "Joe Fresh is proudlyCanadian, and reflecting that our design is confident yet understated. If you look closely, you'll find subtle but sophisticatednuances that create interest and distinguish the Joe Fresh aesthetic."









* Location to be used only as a reference. It could indicate city/country but not exact address.