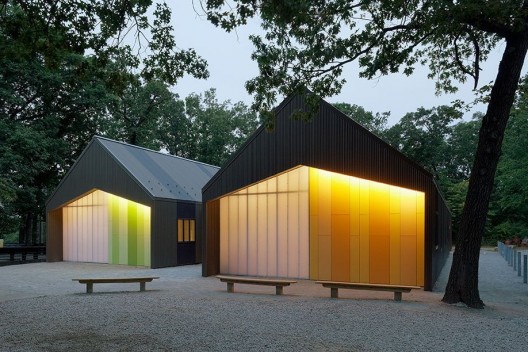 Architects: el dorado
Location: Kansas City, Missouri, United States
Principal In Charge: Douglas Stockman, AIA
Project Manager: Sean Slattery, AIA
Project Year: 2012
Photographs: Mike Sinclair
Collaborators: Kansas State University
General Contractor: Haren Laughlin Construction
Construction of Entry:
The foundation is a combination cast-in-place concrete slab with continuous grade beams running parallel the to the longitudinal walls. The load bearing walls are constructed of 2×6 wood studs, that in turn support a series of common & scissor trusses. The envelope is clad with corrugated metal panels, complimenting the wood aluminum clad windows and skylights. The end of the bunk houses are a combination of fluted polycarbonate glazing and painted concrete board over a rain screen system. All mechanical systems are concealed within the trusses. The pendant lights are custom fixtures designed and built by a former girl scout.
Program Statement of Entry:
Camp Prairie Schooner sits high on the bluffs of the Little Blue River about 19 miles south east of downtown Kansas City. With 176 wooded acres, the camp feels like wilderness in the heart of the metropolitan area. Prairie Schooner features a dining hall, five permanent units, two buildings for troop use, a 40-foot rappel tower, archery range, swimming pool and zipline. This wooded site has creeks, hills, and a nature trail that circles the property. el dorado was hired to design a new trail center that functions as a troop house, a modern restroom and shower facility. Our approach identified the assets of the camp, and then leveraged those assets to build on the programmatic expectations of the project. This was achieved by locating the new trail center adjacent to an existing dining hall that already serves as the camp center. The new building is positioned to provide a continuous drop off zone along northern face that directs the girls toward a courtyard space which service as the entry to both the dining hall and the trail center. Its proximity to the road also serves as a way-finding mechanism to girls residing at other portions of the camp.