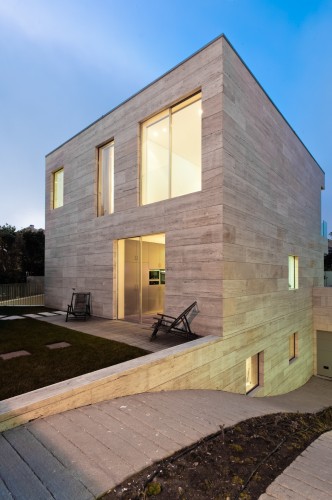 Architects: ARQX Architects
Location: Oporto, Portugal
Design Team: Miguel Meirinhos, Pedro da Graça Lopes
Project Year: 2011
Photographs: Courtesy of ARQX Architects
Project Area: 150.0 sqm
Collaborators: Pedro Oliveira
Site Area: 435,35 sqm
Gross Floor Area: 518 sqm
The broken shape of the plot, as well as legal contingency, brought some difficulty to the implantation decision. The need for a regular space evolved to a cornered volume, larger to the front and narrowed to the back courtyard. The windows were ripped in the façades from inside-out, giving the best light and perspectives to spaces. This informal approach to the geometry of the exterior walls, as well as the broken form of the volume, contrasts with the austerity and weight of the stone that covers it.
Interior was set in a very clear hierarchy: permanence spaces (bedrooms, living rooms, dinner room and kitchen) adopt regular shapes, and dynamic spaces (circulation, bathrooms and storage) fill in the spaces in-between. This sort of game of contrasts between regular/irregular, stable/dynamic and heavy/light is conducted and established by a very exhaustive work on constructive details, assuring simplicity in the building process and a sustainable life for the building.








* Location to be used only as a reference. It could indicate city/country but not exact address.