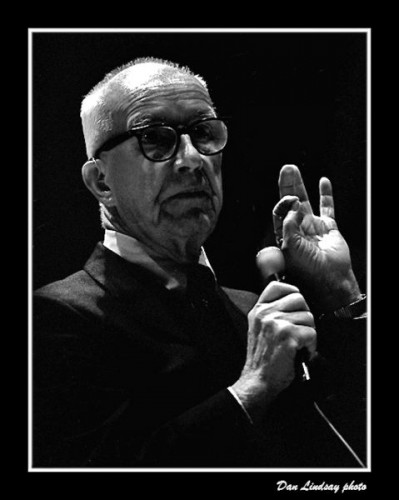 A 117-years ago in Milton, Massachusetts, a legend was born. Dedicated to a life of exploration, discovery, invention and teaching, R. Buckminster Fuller was driven by his intention "to make the world work for 100% of humanity, in the shortest possible time, through spontaneous cooperation without ecological offense or disadvantage of anyone." And for this, he has become known as the father of sustainability.
Fuller never confined himself to a single profession and worked as a 'comprehensive anticipatory design scientist' to solve global problems surrounding housing, shelter, transportation, education, energy, ecological destruction and poverty. Throughout his prolific career, Fuller held 28 patents, authored 28 books and received 47 honorary degrees. His best known "artifact" was the geodesic dome, which has been produced over 300,000 times worldwide.
In honor of the renowned 20th century inventor and visionary, we celebrate with a special ArchDaily logo:
Recentely, Norman Foster recreated the legendary futuristic Dymaxion Car designed by Fuller, after a lengthy, expensive and passionate two year project. More details can be found here.
For more information, visit the Buckminster Fuller Institute. And, for those of you in the San Francisco area, celebrate Bucky's birthday at the ongoing SFMoMA exhibit The Utopian Impulse: Buckminster Fuller and the Bay Area, which will concluded July 29th.