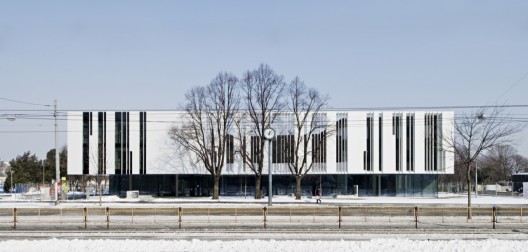 Architects: Delugan Meissl
Location: Vienna, Austria
Completion: 2012
Area: 4,046 sqm
Photographs: Herta Hurnaus, DMAA
The access area is set back from the road and constitutes an opening with visual reference towards the historic entrance gate. The two storeys solitaire develops from a basic rectangular shape. Its static, tranquil aspect is characterised by a rhythmically segmented façade. The overlay of the façade layers enters an inter play with the exterior, thus creating intense relationships between the landscape and the building's interior. The transitional space between inside and outside is designed as a green and weather-protected courtyard. The path towards the main entrance is framed by temporary sample graves and stone masonry. An optical connection to the green exterior is generated by high glass panels which also transmit an atmospheric continuation of the landscape. The ample client area is divided into different functional zones which inter- sect seamlessly. The open space is structured by centrally located consultation desks and south-easterly oriented private niches are designed as discretion areas for personal care. The exhibition space for coffins and urns is located in the rear part of the ground floor area.
The clear functional separation between client and office spaces is consituted by a centrally located staircase. The upper level hosts offices and a common room with an adjacent terrace, as well as rooms and spatious open areas for staff. The views towards the surrounding landscape are studiously framed, hence creating intense visual relationships with the outside and increasing the quality of these indoor areas. The external landscaping concept envisages a discreet, timeless formulation of plants and structures pertaining to the classical graveyard design.
Products used in this project