Skidmore, Owings & Merrill LLP (SOM) has shared with us some updated images of the new John Jay College of Criminal Justice in New York. As you may remember, back in November we reported the official ribbon cutting of the 625,000-square-foot facility. With a primary focus on increasing social interaction throughout the facility while effectively satisfying the needs of an entire campus within a single building, the John Jay College of Criminal Justice is a reflection of the contemporary standards for educational facilities.
Continue after the break to view more images.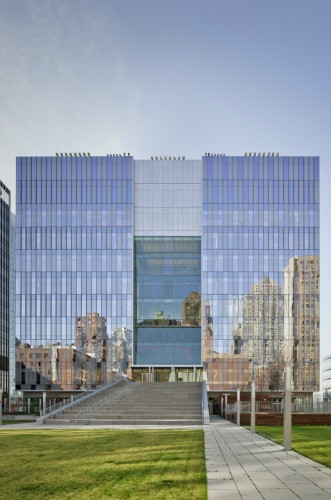 In addition to the abundance of social spaces, the building houses faculty offices, academic quads, a conference center, and instructional laboratories. Check out our previous coverage to learn more.
Architect: Skidmore, Owings, & Merrill LLP
Location: New York, NY
Client: City University of New York; John Jay College of Criminal Justice; Dormitory Authority of the State of New York
Owner's Representative/Construction Manager: Turner Construction Co.
MEP Engineering & Vertical Transportation: Jaros Baum & Bolles
Structural Engineering: Leslie E. Robertson Associates, RLLP
Laboratories Planning: GPR Planners Collaborative, Inc.
Higher Education Programming: Scott Blackwell Page Architect
Civil/Geotechnical/Environmental: Langan Engineering & Environmental Services, P.C.
Lighting: SBLD Studio
Landscape Architect: Quennell Rothschild & Partners
Food Service: Romano Gatland
Acousitcs, AV, IT Telecommunications: Shen Milsom & Wilke
Cost Estimating: AccuCost Construction Consultants, Inc.; Turner Construction Co.
Graphics: Lebowitz/Gould/Design, Inc.
Zoning: Development Consulting Services, Inc
Expediting Services: RPO, Inc.