Architects: Tina Tziallas + Factor Design
Location: Wildes Meadow, Southern Highlands, New South Wales, Australia
Client: Inteweave
Completion Date: February 2012
Site Area: Interior Space Approx 100 sqm
External Glazing: Renlita
External Products: Highly Tinted External Glazing on Front of Building; Remaining external surfaces rendered and painted black
Interior Fitout: Factor Design
Photographs: Holly Treadaway
Out Of The Box – Black Box Create For A Software Design Studio
Architectural Brief & Response
The architectural brief for this project centred around converting an existing machinery shed into a state of the art, functional work space. The client's interest in contemporary design influenced the architectural response to the project.
Tina Tziallas | Architecture Studio set about creating something completely out of the box. The old shed became unrecognisable, with a re-dressed facade of black glass. Roller doors past their prime were replaced with high-performance tilt doors.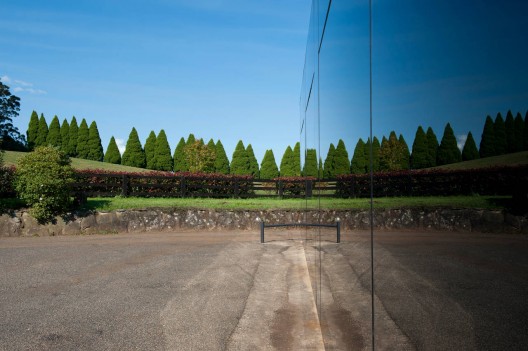 The outcome is astounding. An contemporary workspace with an indoor, outdoor connection. The sky and vegetation is directly reflected in the building. Inside a modern, serene workplace that can be enclosed and insular or opened to natural elements.
The architectural response allowed for a minimal and restrained interior which acted as a perfect canvas for Ian Factor's fitout. Working closely with Ian meant that the interior envelope and furniture fitout did not compete, but that the building gave Ian's pieces the space they needed to take centre stage. The end result is a functional, beautiful and dynamic contemporary work space that has exceeded the client's expectations and maximised the architectural possibilities of re-using an existing rural out-building.