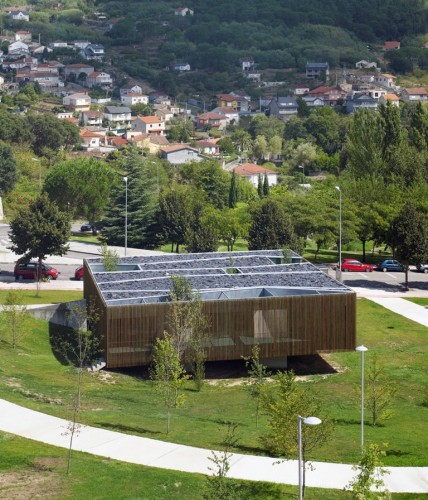 Architects: Abalo Alonso Arquitectos - Elizabeth Abalo, Gonzalo Alonso
Location: Ourense, Spain
Completed: 2011
Collaborators: Berta Peleteiro
Budget: 400,000 €
Area: 327 sqm
Photographs: Héctor Santos-Díez | Bis Images
Nursery. University Campus. Ourense
Wood cabins amidst trees could well lie at the core of the project design. Perhaps our "horreos" too. We long for those moments of childhood games. The very same layout of nature is accompanying us: campus, isolation, trees, sloping ground…
A single floor for functional reasons, and access located at the highest spot. The entranceway set up for leaving trolleys, and wind-breaking doors bring us into the building. A multiple-use room distributing functions. North, servant spaces accessed independently; office, staff dressing room, kitchen and room for facilities.
South, firstly dressing rooms and toilets serving as filter; next, rooms linked together, and a playground and balcony area facing south and dominating the university campus. The very same materials are accompanying us: natural or in a natural attitude, concrete, wood, glass…

* Location to be used only as a reference. It could indicate city/country but not exact address.