Architects: Andrea Pelati Architecte + Ipas Architectes
Location: Rue Charles-Knapp 30, Neuchâtel, Switzerland
General management: andrea pelati architecte
Design: ipas architectes sa
Execution: andrea pelati architecte
Author: Eric Ott, ipas architects sa
Co-author: Andrea Pelati
Project Team: Andrea Pelati, Eric Ott, Gilles Batista, Jean-Claude Prêtre
Project Consultants: Mauler SA – Ccivil Engineers
Client: Habitat Concept Sàrl
Project Area: 1,950 sqm
Project Year: 2006-2011
Photographs: Thomas Jantscher, Gérald Sciboz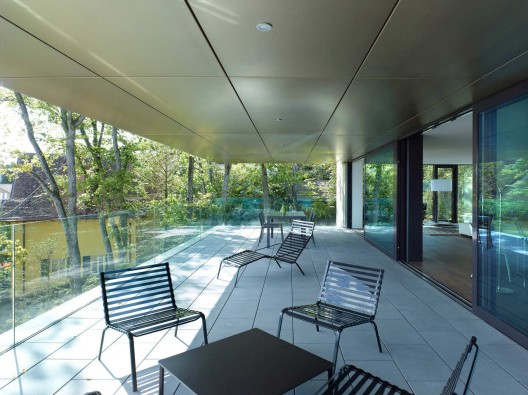 A secular park … a mansion … majestic trees … this is the gorgeous setting the residential building l'Ermitage settles in.
Overlooking the town of Neuchatel, this plot enjoys proximity to the center and an exceptional location.
To fit perfectly into this verdure, the building is fragmented, plays with its volumes. The environment is reflected in the shimmering facade enliven by the varying colors through the seasons.
The disarticulated levels result in large outdoor spaces. The apartments enjoy an uncommon relation to nature, surrounded by the trees and opened on a panorama offered by the lake and the Alps.
On each floor lies a large apartment, designed according to the desires and needs of buyers. A way of planning housing tinted with freedom.