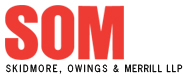 The Partners of Skidmore, Owings & Merrill LLP (SOM) have announced their plans for a new design studio in Los Angeles to join their West Coast practice. With a commitment to urban, environmental and social sustainability in Southern California, the studio will be lead by three former SOM architects – Michael Mann, FAIA; Paul Danna, AIA; and Jose Luis Palacios, AIA.
Craig Hartman, FAIA, the Design Partner in SOM's San Francisco office, stated, "We want to be part of the dialogue in LA – a tremendously important cultural and talent hub and a diverse design-centric city. With Michael, Paul and Jose leading our studio," Hartman continued, "we will be part of the conversation and be able to collaborate meaningfully with colleagues and institutions that we've known for years.
New commissions include UCLA's new Medical Education Building that will become a entry point for the campus and the Medical School, a new mix-use project at UC Santa Barbara and a new courthouse for the Superior Court of California in San Diego, which will be the largest in the state. Find more information here.