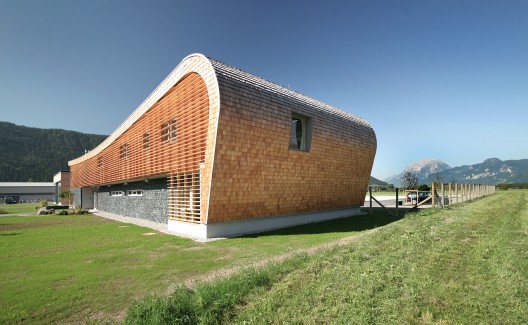 Architects: KREINERarchitektur ZT GmbH 
Location: A-8940 Liezen, Schönauerstraße 50, Austria
Completed: 2007
Photographs: Mirja Geh
Customer friendliness, openness and transparency, a functional floor plan solutions with offices, archives, a canteen, a meeting room and a multifunctional foyer featuring the construction of the torrent and avalanche control in the south Liezen.
The curved building of the office building, storehouse, and the cubic orientation workshop with docked down to the impressive panorama Grimming, offering light-filledrooms and adapt sensitively to the surrounding landscape.
The materiality of the ensemble takes clear content related to the Torrent and Avalanche Control: from untreated larch wood, glass, raw stone, concrete and waterradiate authenticity, sustainability and love of nature. Seating for the light, translucent, filigree wooden body of the upper floor firmly on the "base" of slate-green serpentinite -stone gabions on – penetrated only by the glass portal that is the view onto the pond, thewave motion in the evening sun on the natural exposed concrete walls of the foyersreflects.
The wooden, timeless purist hall, glazed front side, bordering the ensemble in its expansion to the south. The curved roof of the office complex symbolizes wood shingled from far away the "wave" as an architectural brand and symbol of progress and future orientation
* Location to be used only as a reference. It could indicate city/country but not exact address.