Architect: TVA Architects, Inc.
Location: Hillsboro, Oregon, USA
Lead Design: Bob Thompson – Principal-in-charge
Project Team: Monty Hill, Eric Li, Lisa Christie, Steve Karolyi
Structural Engineer: KPFF Consulting Engineers
MEP: PAE Consulting Engineers
Landscape: Percivial & Shapiro
Civil Engineer: Group Mackenzie
Interiors: Williamson McCarter + Associates
Signage: Ambrosini Design
General Contractor: Hoffman Construction Co.
Geotechnical Engineer: Hart Crowser
Project Area: 40,000 sqf
Photographs: Rich Strode, Stephen Cridland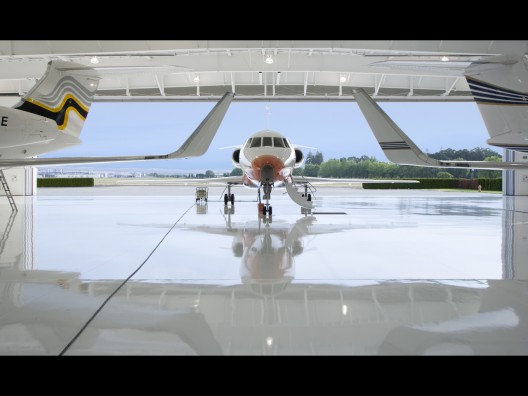 The Nike Air Hangar is a 40,000 square foot facility located at the suburban Hillsboro Airport, on the outskirts of Portland. Privately owned by Nike, Inc., it houses three Gulfstream G5 jets for executive business travel. In addition to the requisite support space for flight planning and airplane maintenance, the Hangar provides amenities for travelers and pilots such as a lounge, exercise facilities, executive suites, meeting space, and a gourmet kitchen.