SEA and Elkiær + Ebbeskov have been announced the winners of The Danish Foundation for Culture and Sports Facilities' competition to design Pulsen – the Community Centre of the future. The project was selected as the winner from 43 proposals in the open competition. The approximately 62 million DKK Community Centre will be built in the village of Balling in the north west of Denmark. Pulsen combines a healthcare centre with doctors, dentists and specialists. A sports center for activities ranging from handball to yoga. A wellness center with thermal baths, spas and a fitness area. A culture house and learning centre with facilities for events and workshops for music and art. The project has been organised as a village within a village where the main functions are placed in separate buildings connected by covered streets and squares. The interconnecting space provide places to play, meet, eat and drink.
"Sport and health is something that binds everyone together across generations. Therefore, health is the perfect theme for the new Community Centre in Balling. But health alone does not create a gathering point. That is why we have decided to realize the building as a small "town" with streets and squares, which creating a new and different framework for residents to absorb and enjoy whether they have errands to run in the center or not," says Ane Ebbeskov, Partner at Elkiær + Ebbeskov.

A pioneering project
The Community Centre in Balling is the result of a seven year long process driven by the local citizens' vision for a dynamic hub that facilitates the needs of a changing community. Pulsen is located in close relation to Balling village, the local school, sports area and the surrounding landscape. The multifunctional center will be connected to these local resources in a series of new outdoor spaces, activities and a new running track integrated in the landscape. The ability to create a meeting place with both a high social and environmental profile is, according to the competition jury, what makes the winning entry particularly successful: "This shows a completely new and exciting approach to the principle of a multifunctional centre. The winning project breaks away from the single building idea and instead points towards a collection of buildings under the same roof with streets in between them, which will act as both activity and meeting places. Some solid decisions have been taken in the area of sustainability and they have been well integrated into the architecture. The final proposal could act as a pioneering project for other municipalities considering combining sport, culture and health facilities with sustainability in mind", says Torben Frølich, Director of The Danish Foundation for Culture and Sports Facilities.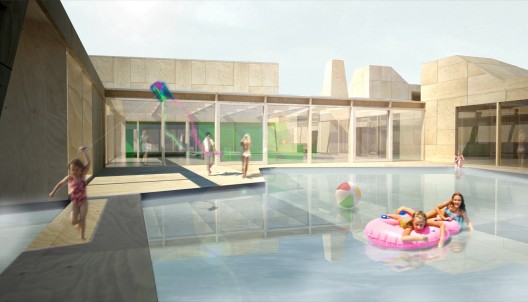 Sustainability and blue lagoon
The new Community Centre, Pulsen, is a project with a high sustainability profile. On an environmental level, sustainability is an integrated element throughout the building, with particular focus on low energy consumption and sustainable materials. Wood is a recurrent material and is used in construction and on the façades. The lightweight roof is constructed in transparent ETFE, allowing an abundance of daylight to stream onto the inner streets and squares.
The large outdoor pool is created in the spirit of Iceland's blue lagoon. Just as in Iceland, the warm water comes from the underground, even though it is a little less dramatic in this case. The local heating plant is planning to be one of the few plants in Denmark to employ geothermic heating methods by using underground water. Once the water has been used for heating, it will be used in the spa baths in the wellness house and in the outdoor pool. This means that you can swim in warm water, out in the open in a 100% natural and sustainable way. "We have created a building which is environmentally sustainable and with emphasis on low energy consumption and environmentally friendly materials. In addition it has also been important to create a socially sustainable project which encompasses new activities and a shared feeling within the local community – a house for everyone," says Karsten Gori, Partner in SEA.
Architect: SEA with Elkiær + Ebbeskov
Location: Balling, Denmark
Engineer: Bascon Engineers
Project Area: 5,000 sqm

* Location to be used only as a reference. It could indicate city/country but not exact address.