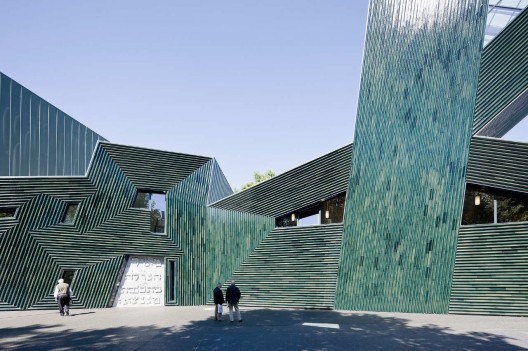 Architects: Manuel Herz Architects, Basel and Cologne – Manuel Herz
Location: Mainz, Germany
Project Team: Construction Design: Elitsa Lacaze; Hania Michalska, Michael Scheuvens, Peter Sandmann
Concept Design: Cornelia Redeker, Sven Röttger, Sonja Starke
Project Management: Mainzer Aufbaugesellschaft mbH
Site Supervision: Klaus Dittmar Architekt, Mainz
Landscaping: Harald Heims, Mainz
Structural Engineering: Arup GmbH, Düsseldorf
Ceramic Facade Planning: Niels Dietrich Keramikwerkstatt, Cologne
Electrical Engineering: K. Dörflinger GmbH, Allendorf
Building Services: House of Engineers, Mainz
Building Physics: IBC Ingenieurbau Consult GmbH, Mainz
Fire Services: Ingenieurbüro Ingo Petry, Mainz
Acoustical Planning: Ingenieurgesellschaft für Technische Akustik, Wiesbaden
Project area: 2,500 sqm
Project year: 2010
Photographs: Iwan Baan
Few Jewish communities used to surpass the one of Mainz in importance and tradition. During the Middle Ages being the major center of religious teaching, this importance can be traced back to a series of influential Rabbis, especially Gershom ben Judah (960 to 1040) whose teachings and legal decisions had impact on Judaism at large. His wisdom was deemed to be so large that he was given the name "הגולא מאור" – 'Light of Diaspora'. The new Jewish Community Center of Mainz attempts to draw out this tradition
The history of the Jews of Mainz though, has also witnessed a different side. In almost no other city have Jews been persecuted so often throughout history, and have still time and again attempted to build up a Jewish community as in this so seemingly serene city of Mainz. Since the first mention of Jews in 'Magenza' around the year 900 the communities have been eradicated in a tragic regularity. And still, a few years later Jews found the courage to settle again in Mainz. Thus, almost paradigmatically Mainz embodies hope, learning and an unshakable belief in a future, and at the same time the destruction of Jewish culture and people over more than one millennium.
After the Holocaust the community is founded again by a small group of Jews. Up until the 1980s approximately 75 Jewish families are living in Mainz when immigration of Jews from the former Soviet republics increases this number sixfold. The existing spaces in a small residential building cannot fulfill the demands of the growing community for religious, social and cultural activities anymore. A new building for a synagogue plus community center becomes necessary, constructed on the site of the former main 'Synagogue Hindenburgstrasse.'

* Location to be used only as a reference. It could indicate city/country but not exact address.