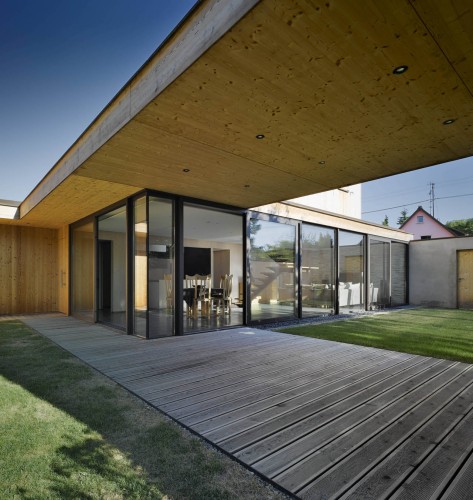 Architects: Atelier d.org – Jeanroy, Leduc, Riber architects
Location: Sélestat, France
Engineer: Gettec Bâtiment
Project year: 2009
Photographs: Stéphane Spach
Experimenting a new compact housing concept in the middle of a private housing estate. A house which illustrates a new compact housing concept
Building an eco-aware house and proposing a new compact housing concept to return to a living closer to natural elements. The parcel-house argues in favor of:
- An evolution of the urban shape of housing estates using new house layout to make the neighbourhood denser.
- A new relationship between the living rooms and the outdoor spaces to better take benefit of the open garden and its seasonal evolution.
- An attention to bioclimatic principles to benefit from passive natural energies and complement energy saving technologies.
- An economical and thoughtful use of the construction materials, favouring eco-aware constructions.
The parcel-house is partly built on the lot limits, contrary to the classical layout of housing estates. It allows organizing the outdoor space with specific objectives directly linked to the interior spatial design. The inside hence extends into the natural plot made of four gardens with different purposes:
- The main garden entrance: this area located at the plot inlet is used to provide a transition between the public and the private spaces of the house.
- The gazing garden: similar to a patio, this area visually extends the lounge. It is organised as a floral garden, both decorative and inaccessible.
- The toy garden: reserved to children only, the access to this outdoor playground is direct from the bedrooms.
- The family garden: the main outdoor space, it can be used for any activity: gardening, barbecue, games…

* Location to be used only as a reference. It could indicate city/country but not exact address.