Group Goetz Architects (GGA) provided full service interior design, architectural, and engineering services to multidisciplinary international law firm Foley & Lardner for their total building renovation into a new state of the art law firm facility. The effort included 210,000 sqf of office space, built in three major phases, over four floors, in approximately 18 months. The project includes a 30,000 sqf Conference Center, a full service Café, and Resource, Records, Document Storage IT, and Reproduction centers.
Project description, images, and drawings after the break.
Architect: Group Goetz Architects
Location: 3000 K Street, N.W. Washington DC, USA
Project Team: Lewis J. Goetz, FAIA, FIIDA (Principal-in-Charge), Mansour Maboudian, Assoc. AIA, LEED AP (Principal, Director of Sustainable Design), Amber Kwansiewski (Project Designer), Laura Madge (Designer)
Contractor: Hitt Contracting
Mechanical/Electrical/Plumbing Engineer: KTA Group Engineering
Lighting Consultant: MCLA
Structural Engineer: Tadjer Cohen Edelson Associates, Inc.
Audio/Visual Consultant: 11 Communications Group
Art Consultant: Jean Efron Associates
Project Manager: Jones Lang LaSalle
Project Area: 210,000 sqf
Project Year: 2010
Photographs: Courtesy of Group Goetz Architects
The primary objective of this undertaking involved the creation of a contemporary work environment that reflects the forward-thinking nature of this organization. The highly efficient design focused on best practices in law firm design creating improved space efficiency including reducing Attorney sqf ratio to less than 625 sqf/Attorney and Secretary/Attorney ratio of approximately 3:1. The concept layout will allow further efficiencies to be gained by having a modular design with the ability of converting secretarial spaces to offices in the future as ratios change.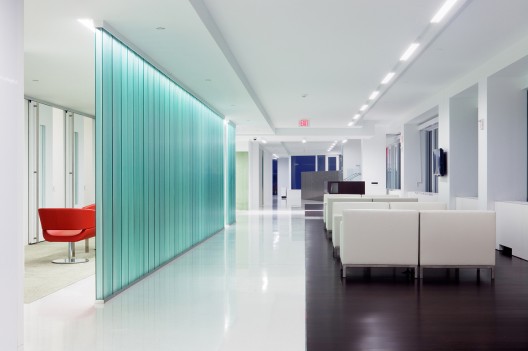 An important part of the design was a sustainable design approach. Although LEED Certification was not a requirement the space was designed to meet LEED Silver certification with key elements, including green roofs, energy efficient natural and artificial lighting strategies, recycled and local materials, and energy recovery systems.
The state of the art Conference Center located on the top floor of the building provided panoramic views of the Potomac River reaching from the Key Bridge to the Kennedy Center. The Center includes conference facilities from large multipurpose spaces with seating for 300 people, Board Room, various size conference rooms from 6-24 people including pre-function spaces, catering pantry, visitor business center, and additional visitor restrooms. All conference rooms were fitted with sophisticated audio visual capabilities.
An overall challenge facing this project involved achieving these objectives and incorporating space efficiencies in an extremely complex, 1980s building in which no prevailing, coherent structural grid exists. GGA's use of innovative ideas resulted in a design concept defined as a "mini-city within a city." Given the building's 'cluster of smaller buildings' overlapping each other, the design sought to establish a sense of "New Urbanism" by creating arteries that connect different points, while providing in-between social, collective and active spaces. In order to best illustrate this design concept, GGA established major axes and cross-axes relating to the geometry of the building. Using these axes as guides allowed GGA to create a "boulevard" that serves as a clear pathway running through the center of each floor. This design element serves as a link between floors and practices.